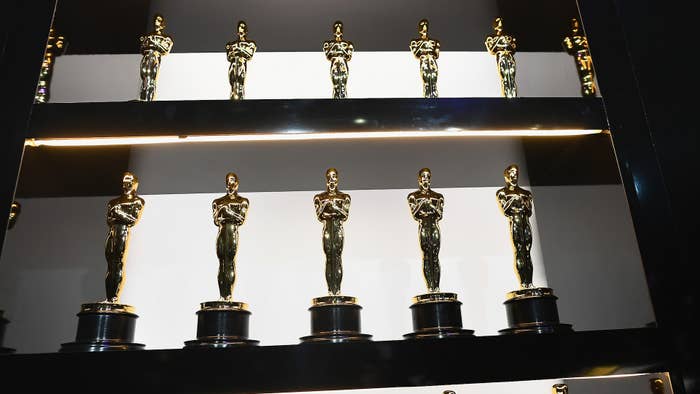 The Academy announced Tuesday that movies released solely via streaming or VOD can still be eligible for the Oscars next year. 
Films were previously required to be shown in a "commercial motion picture theater" in Los Angeles County for at least seven consecutive days in order to qualify for Oscars awards consideration. In addition to meeting all other previous eligibility requirements, movies will only be considered if they have been made available on the organization's members-only streaming service, Academy Screening Room, within 60 days of its digital release. 
The Academy expects this to be a one-time only alteration to the rules, but when things get back to normal, the theatrical release requirement for eligibility will be expanded to include the following cities: New York, San Francisco, Chicago, Illinois, and Atlanta. 
This rule change announcement is in direct response to the shutdown of movie theaters across the country due to the coronavirus pandemic. 
"The Academy firmly believes there is no greater way to experience the magic of movies than to see them in a theater. Our commitment to that is unchanged and unwavering. Nonetheless, the historically tragic COVID-19 pandemic necessitates this temporary exception to our awards eligibility rules," Academy President David Rubin and CEO Dawn Hudson said in a statement. "The Academy supports our members and colleagues during this time of uncertainty. We recognize the importance of their work being seen and also celebrated, especially now, when audiences appreciate movies more than ever."
In other equally important Oscars-related news, the ceremony will finally merge the categories of Sound Mixing and Sound Editing going forward into a much more understandable Best Achievement in Sound. 
To give you an idea of how difficult it is for the everyday moviegoer to differentiate the two categories, Ford v Ferrari won for sound editing while 1917 was given the trophy for sound mixing, even though both were nominated in both fields. Why was that exactly? Who the hell knows.
The date of next year's Oscars on Sunday, February 28, 2021 remains unchanged.