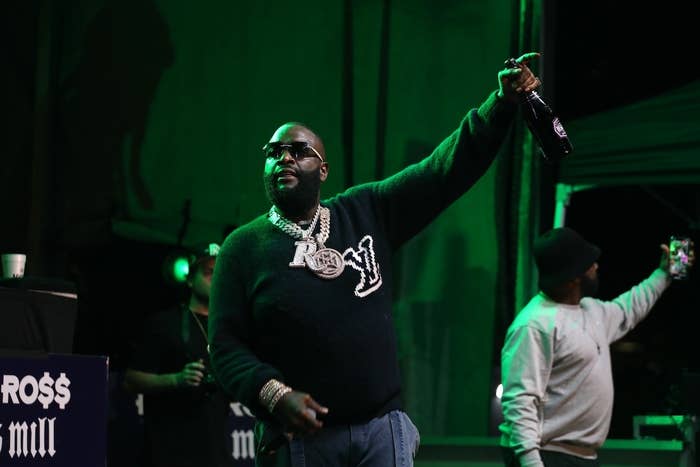 Rick Ross has some words for Jada Pinkett Smith.
In a new Rolling Stone interview, Ricky Rozay was asked about his "Entanglements" collaboration with August Alsina, who was romantically linked to Pinkett Smith in the last decade.
When questioned about his thoughts on Pinkett Smith's book tour, Ross had less than kind words to say about the Worthy author.
"I don't think I agree with Jada Pinkett. To me, she's psychologically lost and needs some counseling," Ross said. "Jesus! What you going to tell us next? When you tell us you haven't been together in six years, you haven't had sex in this many years, you don't have a prenuptial agreement — OK, what's next?"
Ross added that he heard Pinkett Smith's memoir "flopped," despite it debuting at No. 3 on the New York Times Best Seller list upon its Oct. 17 release.
"No one cares. That's what they don't understand. Sometimes as celebrities you can get out of touch," Ross said, believing that the book was unsuccessful.
Ross then threw Will Smith into the equation, although the Oscar-winning actor has stood beside his wife and even supported her throughout the Worthy book tour. "Will Smith isn't the same Will Smith as he was 20 years ago. Jada Pinkett … come on, Jada! Chill out, baby! You were in the movie Set It Off, and that's all we know you from. You got $15K for that role and that's it. Calm down," Ross said.
Ross got even more personal, making references to Alsina, Will and Jada's son Jaden Smith, and Tupac Shakur, who Pinkett Smith was friends with from high school until he died in 1996.
"You fucked your son's best friend. You said your son introduced you to psychedelics. What's next?! And to be honest, we're not interested! I don't want to know if Tupac got alopecia! Jada, Rozay still got love for you, but go sit down."
Ross isn't the first out of the Maybach Music Group artists who tore into Pinkett Smith. During a recent Complex GOAT Talk, Meek Mill gave "player advice" to Will Smith, telling the actor to know his "value" and "worth."