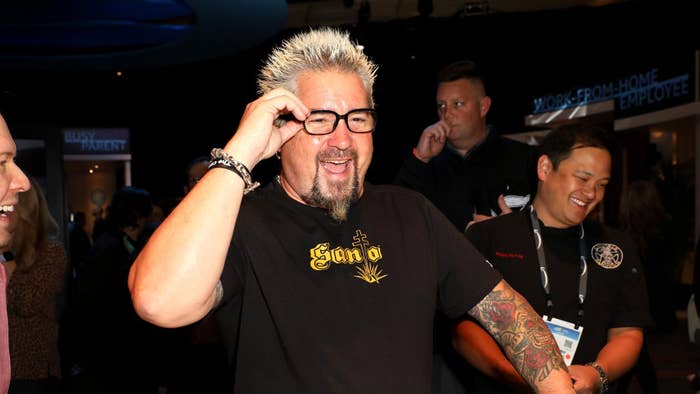 Guy Fieri is attempting to keep restaurant workers afloat during this global pandemic, by any means necessary. The world-famous TV personality and the National Restaurant Association Educational Foundation have teamed up to send up to $500 in grant money to up to 40,000 restaurant workers across the country with their newly created Restaurant Employee Relief Fund.
Fieri told TMZ that in less than two months, he and the organization have been able raise up to $21.5 million dollars thus far.
"I started thinking about my brothers and sisters in the restaurant business, and a bunch of restaurants that I was closing — we gotta do something," he told the outlet.
Fieri went on to say that he "started sending personal video invitations to all the heavy-hitter CEOs that are involved in the restaurant business," in regards to raising the money. "As long as the money comes in, we're going to continue to give these grants," he added.
Fieri also urged people to buy from smaller mom-and-pop restaurants during these difficult times. With the rapid spread of COVID-19, thousands of restaurants have been forced to close down, putting their businesses and the livelihoods of their workers put in dire straits. 
Of course, the superhero efforts from the chef and TV personality have sent ripple effects across social media, prompting people to applaud what he's been doing. The reaction is especially notable since Fieri is often clowned for his cartoonish persona. Check out some of the reactions below.