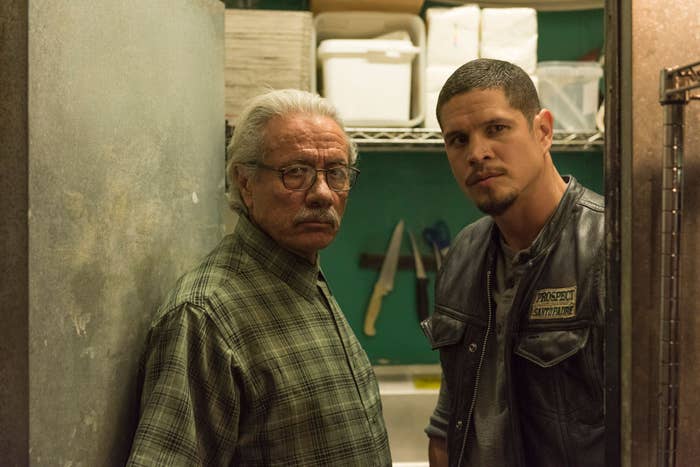 "The audience has spoken, and unfortunately, the word is meh."
That's from Kurt Sutter's 2015 editorial in The Hollywood Reporter, in which he announced his medieval drama The Bastard Executioner was canceled after just one season, not via any pressure from its home network FX but rather in concert with them simply because the writing was on the wall. Critics panned it, a weekly decline in ratings proved it had no core audience willing to fight for it, and Kurt's concession—he's been a bleeding heart showrunner for most of his career either in similar editorials or posts on his own blog—reads burnt out and defeated. You probably don't even remember The Bastard Executioner. Reading that pull quote now, you're likely to wonder if the show was really that bad to warrant such a brutal ending. Surely it couldn't have been, not coming from the man who served as a top writing lieutenant on one of the best Golden Age dramas ever made (The Shield), then parlayed his tenure there into creating one of cable television's biggest series to date (Sons of Anarchy), right? No—the show was quite awful, immediately. Worse yet, it signified a troubling decline. Sutter oversaw some of The Shield's most memorable plot and character arcs; in Sons' second season he imbued a biker drama, of all premises, with such gravitas that culture critics and fans alike called foul when the show was shut out of Emmy nominations.
The show would only climb in popularity from there, but a narrative copout late in its fourth season sent it on a creative spiral it never quite recovered from. SoA was always hyper-violent, but its early years validated that with substance and narrative returns. The back half of the series gave way to grotesque shock value that seemed as if it was only there to one-up previous watercooler moments. Flashes of brilliance were dashed by meandering plotlines. Sons' final season is a death march to an inevitable, series-long showdown between Jax Teller, the motorcycle club's AF-1'd out wayward Hamlet and his mother, a Lady Macbeth in Gertrude's clothing. It could've been a taut, heavy, thrilling final season for the books (The Shield's final season is, lowkey, a textbook for a lot of your contemporary faves.) Instead, bolstered by limitless creative control at FX, Sutter went for excess. You think Netflix episodes run too long? Almost every final ep of Sons came in at 90 minutes with commercials. You think Game of Thrones uses sexual assault as a storytelling crutch? They couldn't hold Sutter's beer stein. What could've been a classic conclusion, instead became yet another case study of a once-great critical darling curdling. Literally, immediately after that, Sutter went right into Executioner, which didn't even bother being great before devolving into trash. 
All of that is to say, there's a lot more riding on Mayans MC, the Sons of Anarchy sequel/spin-off series premiering tonight, than just living up to its predecessor. It has to live up to SoA's best years, while also hopefully absolving the fall-off that followed. It can either serve as Sutter's redemption, a return to form after a much-needed three-year sabbatical...or it could be the subject of his next THR mea culpa. Two episodes in, he's not off to the greatest start.
Mayans MC announces itself as a different beast five minutes into the pilot. Centered on the Latino motorcycle club Jax and his buddies counted as frenemies on SoA, the show jumps forward a couple years following the events of the Sons finale and from NorCal to the town of Santo Padre on the SoCal/Mexican border. Riding through town, our protagonist Ezekiel, or EZ—a mere MC prospect whereas Jax Teller was VP, and more importantly, club royalty—halts at a stop sign observing horny teens in a high school quad and has...a flashback.
On SoA, Sutter was famously anti-flashback. Dozens of series lean on the device past the point of creativity for easy exposition. Sons, with Jax studying his late father's musings, and the rampant implication of his betrayal at the hands of his wife and club co-founder, is ripe with mythology begging for at least one full flashback episode. But one of the the qualities that set Sutter apart from his peers was his determination to trust that the rich history between characters would prove more evident in the present through his cast and his writing. (His wife Katey Sagal, whom he cast as Jax's manipulative mother, was especially good at communicating decades of shared history with any given scene partner.)
Sons backstory was immediately evident, to the viewer—the drama and tension derived lay in when it would become evident to Jax. For Mayans, Sutter is employing a different approach, with sparse, tightly-framed flashbacks that slowly communicate how EZ, once a Stanford student, finds himself eager to join up with his older brother's motorcycle gang club, and the love—and lives—he lost along the way. Further complicating things, EZ has a secret personal connection to the cartel boss the Mayans are indebted to escorting product for. The pilot opens with that product being ripped off by mystery assailants and where the plot spins from there is so knotty it'd be impossible to hint at without outright writing a Wiki summary.
SoA waited four seasons before cartels entered the picture and three before an abduction storyline—Mayans clears both in the two episodes provided to critics. The less said about the latter, the better (both out of spoiler tact and it being easily the weakest link of the show's already vast bench of subplots) but the cartel factor makes sense. The Sons were unapologetically white, at times at least casually racist, and a member's possible biracility even became a crucial subplot. Other ethnic groups were always in play, but their perspective wasn't. In moving closer to the border and centering on the Mayans, Sutter and co. open the aperture for a take that's incidentally very timely—the first shot of the series is of actual border graffiti that reads Divided We Fall. It'd be disingenuous for the show to wear politics on its sleeve—the whole point of a motorcycle club after all is to exist in a community that runs counter to society. But the Sons were cartel pawns. Here the Mayans are just as resistant, but their culpability is harder to ignore when the fallout reverberates so close to home. Their daily damage on the other side of the border is a main proponent of the story. And while cartel boss Miguel Galindo's (Danny Pino) relationship with his wife(?, baby mama at least) is staid and cliched to oblivion, his quietly manipulative mother, alongside a lieutenant who used to serve his father, combine to give his interior life more personality than he initially suggests.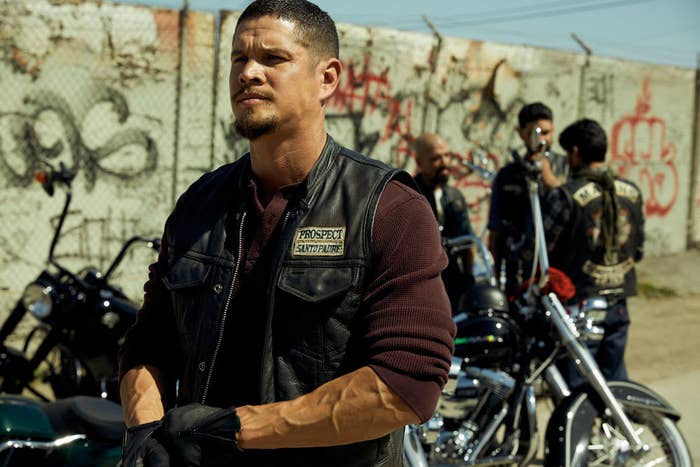 As for the half-dozen or so members of the club, they're an unmemorable mixed bag so far save Johnny (Richard Cabral, whom you might recognize as a highlight in American Crime's rotating troupe) who looks to be this show's livewire-with-a-heart-of-gold in the vein of SoA's Tig. As EZ, J.D. Pardo is solid, if not very magnetic, although several character details give him more to play off of than Charlie Hunnam had this early on. He's even more lost in his thoughts than Jax was, but access to those thoughts via flashback helps endear him. Pardo's the only one who gets to regularly play off the cast crown jewel, the GOAT Edward James Olmos, whose character represents another fresh spin from the source material. In Mayans, EZ is a prospect while his brother is fully patched in, but that's where the lineage stops. Their father, Olmos' Felipe, silently disapproves of their life choice, while a few plot turns hint at why he doesn't object to EZ's involvement more loudly. Still, that decision relegates the greatest actor of the group to only a handful of scenes per episode. 
Mayans MC gets off to an interesting, busy start. If only it were exciting. So far, a lot of Sons problems are already on display here, namely: sluggish pacing despite a number of narrative balls in the air that do more to complicate and distract than they do intrigue.
Still, Sons season one was a marathon not a sprint. The potential was there, but the show didn't really start heating up until episode five when the club uh, blowtorched an exiled member's back tattoo off. Three years ago, The Bastard Executioner wasn't even worth including among the dozens of other series airing to see if a similar moment would click things into place. Now, there are more shows competing for attention, but Mayans may prove worth the investment. Worth noting, though: "fire or knife" was thrilling for the shock as much as it was for Jax's complicity, representing the push-pull between his father's peaceful visions for the club and its inherent violence. When a shocking moment inevitably comes for Mayans, will it resonate? Or will the audience, desensitized and devoid of a reason to emotionally invest, shrug "meh," yet again?