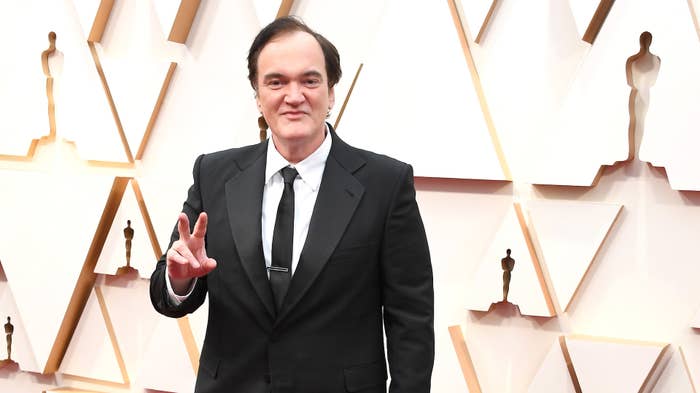 Quentin Tarantino almost jumped into the Marvel universe before an argument with his friends convinced him not to take the leap. 
During an appearance on a recent episode of Amy Schumer's 3 Girls, 1 Keith podcast, Tarantino revealed that he was interested in creating a film adaptation of Marvel's Luke Cage superhero. Tarantino is heavily influenced by blaxploitation films and thought it would be fun to direct a feature based on the contract hero in Harlem during the 1970s. Yet an argument with his "comic geek friends" ended up turning Tarantino off from the idea. 
"I had an idea that [Laurence] Fishburne would've been the perfect guy to play Luke Cage. But all my friends were like, 'It's got to be Wesley Snipes,'" Tarantino recalled. He went on to say that he tried to explain to them that Fishburne is like Marlon Brando to him, but his friends felt like the actor's body type would ruin the movie.
"I think Fish is the man.' And they're like, 'Yeah, but he'd have to get in shape in a big way. Snipes is that way already!'" he continued. "And I go, 'Fuck that! That's not that important! Fuck you, you ruined the whole damn thing!"
Tarantino was not trying to jump on the current tidal wave that's the MCU. The director told the podcast that the film would have been his second release, following Reservoir Dogs in 1992. 
"There was a time before all this Marvel shit was coming out," Tarantino said per The Guardian. "It was after Reservoir Dogs, it was before Pulp Fiction, and I had thought about doing Luke Cage. Growing up I was a big comic-book collector, and my two favorite [comic books] were Luke Cage: Hero for Hire, later Luke Cage: Power Man, and Shang-Chi: Master of Kung Fu."
Although the film was never made, both Fishburne and Snipes ended up in Marvel movies. Snipes was the star of the Blade trilogy of the late '90s/early 2000s, while Fishburne played Bill Foster in 2018's Ant-Man and the Wasp. The Luke Cage character also got its chance to be brought to life via the Netflix series starring Mike Colter.