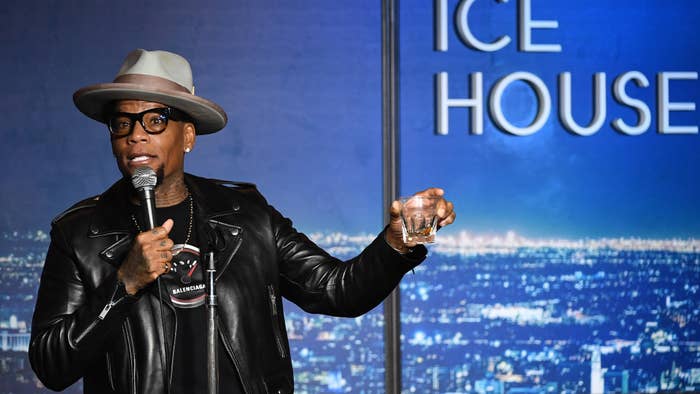 UPDATED 6/20, 10:45 p.m. ET: Following his collapse on stage on Friday night while performing at Zanies Comedy Club in Nashville and being rushed to the hospital, D.L. Hughley revealed on Saturday that his health scare was due to COVID-19.
"When I came I was being teated for extreme exhaustion and dehydration — which, I was very dehydrated," he said in a video recounting the event. "But it turns out they ran a battery of tests and I also tested positive for COVID-19, which blew me away. I was what they call asymptomatic."
Hughley went on to thank everyone for their wishes and prayers, and said that he will be entering a 14-day quarantine as he gets treated.
See original story below.
D.L. Hughley fans were shocked after the comedian's medical scare while performing on-stage at a comedy club. 
D.L. was performing on stage at the Zanies Comedy Club in Nashville when he passed out during his set. The incident was caught on camera and the video hit the timeline. 
Yet, what is not seen in the footage are the events leading up to his collapse. According to TMZ, Hughley's speech became slurred, which prompted the security guard to hand him a bottle of water. The comedian passed out moments later. Hughley's manager was there to break his fall and help carry him off the stage. Per reports, he left the venue on a stretcher and was taken to a nearby hospital in an ambulance.
After the video and news started to make headlines, fans took to social media where they sent out thoughts and prayers to Hughley. 
On Saturday, a representative for the comedian reached out to TMZ. The rep assured the publication that Hughley would be okay.
"[He was] suffering from exhaustion after all the week's work and travel, and was kept overnight at the hospital for tests under doctor's orders," the rep said. "He is awake and feeling better, and wishes to thank everyone for the very kind prayer and thoughts."
Hughley's official Twitter handle since shared retweets of fans sending their well wishes and has even responded to some of them as well.