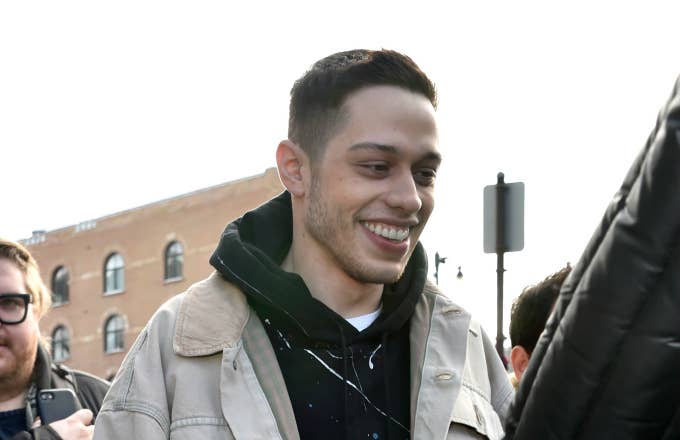 With the shift in the social climate, it's becoming less rare for comedians to say sorry after an offensive joke. But this movement might have hit new heights as a New York City Diocese demands that Pete Davidson apologize for comparing the actions of the Catholic Church to R. Kelly.
On the last episode of Saturday Night Live, Davidson joined the cast of the "Weekend Update" to share his thoughts on the fiasco surrounding R. Kelly. This led the comedian to point out the hypocrisies of "cancel culture," using the sins of the Catholic Church as an example. 
"But if you support the Catholic Church, isn't that like the same thing as being an R. Kelly fan?," Davidson joked. "I don't really see the difference, except like one's music is significantly better."
This jab angered The Diocese of Brooklyn, prompting Bishop Nicholas DiMarzio to release a statement that urges the comedian to apologize. 
"The Diocese of Brooklyn is demanding an immediate public apology from Saturday Night Live and NBC after Saturday night's disgraceful and offensive skit in which cast member Pete Davidson, during the Weekend Update segment, said: 'If you support the Catholic Church, isn't that the same thing as being an R. Kelly fan?'" The statement began before explaining their grievances.
"Apparently, the only acceptable bias these days is against the Catholic Church," it continues. "The mockery of this difficult time in the Church's history serves no purpose. "
The "difficult time" that the release refers to is the ongoing investigation into sexual molestation claims made against multiple New York City Catholic officials. This has led the Archdiocese of New York as well as the Diocese of Brooklyn to release over 200 names of clergy they believe to have been "credibly" accused of sexual abuse.
While this is a massive breakthrough and a brave stance by the victims, it should be noted that this is not the first time the Catholic Church has been accused of similar behavior. Throughout the church's history, there have been accusations of child molestation. These alleged incidents are not specific to New York City. In fact, in Feb. 2017 a New Delhi priest was jailed of 20 years after being found guilty of raping a minor. Like R. Kelly's behavior, this history of sexual deviancy has been used as subject matter prior to Davidson's recent shot.