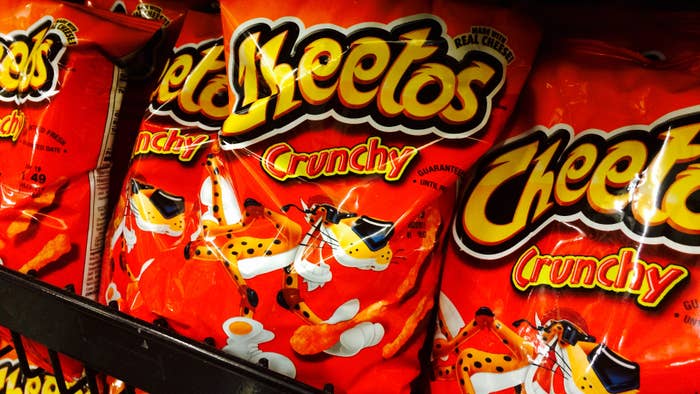 Whether it's 4/20 or simply any given day of any given week, a key aspect of being comfortably and world-silencingly stoned is ensuring you have your preferred go-to snacks within reach.
Unsurprisingly, the classic pairing of top-tier weed with equally top-tier snacks has continued to expand its presence on the larger pop culture space in recent years and now includes everything from stoner food critics to weed-infused dining experiences.
But the classics—i.e. convenience store quick grabs uniting in bliss due to the power of plants—aren't going anywhere anytime soon. Of course, everyone has their own opinions on which stoner snacks reign supreme, but that's the beauty of it: the options are truly endless.
Below, we've done our best to compile what we consider the 25 greatest stoner snack foods of all time. To complete the experience, consider also checking out Complex's rundown of the best songs about weed and the greatest stoner films.
25. Zingers
Maker: Dolly Madison/Hostess
The magic of Zingers lies in their ability, at least for many consumers, to have left an indelible stamp on both their childhood and their so-called adulthood, particularly for those whose adulting includes reading lists about the greatest stoner snack foods of all time. Not unlike other snacks oft-cited in stoner snack debates, Zingers lure you in with a layer of icing on the top of each single cake, underneath which one crumbles their way to a creamy filling. The standout from the Zingers lineup is the raspberry edition, which notably eschews this frosting-focused approach in favor of shaved coconut bits and raspberry flavoring.
24. Takis
Maker: Barcel
This Mexican brand of snack chips, first rolled out in the U.S. in the mid-2000s, is a master of near-limitless taste (and heat) potential. In that spirit, it's fitting that Takis have been made in a slew of different flavor options. For those fond of the brand, it should also come as no surprise that the lineup has continued to be expanded in recent years to include additional Takis-presented items, including ready-to-eat popcorn and a collab with Totino's.
23. Nutella
Maker: Ferrero
The snack of the gods, Nutella induces a high all on its own. Yes, it goes well with just about everything, but why muddle up a good thing with extra shit? You're high, so you enjoy your chill, scoop that shit right out of the jar and shovel it into your mouth until the jar is clean. Nutella is probably the only munchies cure that will satisfy you and not kill your vibe.
22. Cosmic Brownies
Maker: Little Debbie
Though Little Debbie has a myriad of snack options on display in the back of the grocery store, you always associate brownies with weed, so you go for the snacks of the cosmic variety. Those candy-coated chocolate drops atop the moist brownies make for a trippy trip back from the bodega as you indulge. It's not a space cake, but it'll do.
21. Bar-B-Q Fritos
Maker: Frito-Lay
Because original Fritos aren't enough while you're high, you need that added BBQ flavor to satiate you. Above all, though, the Bar-B-Q Fritos lend themselves to a tastier lazy man's "Frito pie."
20. Cinnamon Rolls
Maker: Pillsbury
For the stoners who trust themselves to handle the oven while under the influence of kush, cinnamon rolls are necessary. Not only are they a great way to handle that cotton mouth—the icing is important—but the smell of them baking in the crib will eliminate the aromatic evidence that you just got baked.
19. Twinkies
Maker: Hostess
They were gone for a minute, but they're coming back this summer to junk foodies' and stoners' delight. The fluffy creme-filled individually wrapped cakes are a sweet way to get your stomach to chill out once you've burned down the blunt to your finger tips.
18. Oreos
Maker: Nabisco
You sweet-toothed stoners have Oreos right by your side before you start to roll your spliff. Milk's favorite cookie is also your number one selection when perusing the grocery store aisles on the hunt for items to add to your munchies stash. An excellent high needs to end on an even better note, so while anything sweet would probably do, you won't settle for less than the classic chocolate cookie and white icing sandwich.
17. Cheez Whiz
Maker: Kraft Foods
Cheez Whiz is the preferred condiment of all weed heads. There is nothing this stuff doesn't pair well with when you're high. It even serves its purpose when it goes straight from the jar into your mouth. The best Cheez Whiz comes in a can in the form of Easy Cheese. Can-to-mouth, no utensils, no clean-up, no muss, no fuss.
16. Goldfish
Maker: Pepperidge Farm
You love these little guys because you can trick yourself into thinking you haven't swallowed 500 of them after 15 minutes of munching. It doesn't matter that your choice of snack has a face, the cheese factor is paramount to any other detail that may stop you from eating them. This is precisely why you pop a fistful and follow it up by spraying Cheez Whiz in your mouth.
15. Rice Krispies Treats
Maker: Kellogg's
Snap! Crackle! and Pop! are always welcome at your breakfast table, but when added with melted marshmallows and cut into perfect rectangular blocks, Rice Krispies consistently hit the spot. You could make the treats yourself, but no one has time for that and your cravings aren't going to wait for that shit to cool down. The shiny blue wrapper just gets you every time.
14. Marshmallow Fluff
Maker: Durkee-Mower
While you enjoy your last puff and engage in deep conversations about existentialism, you let nostalgia lead you to an often forgotten snack--fluff. Once enjoyed during elementary school lunches, sandwiched with peanut butter in between two slices of Wonder Bread, marshmallow fluff is the best addition to whatever snack concoction you attempt to throw together.
13. Cheese Balls
Maker: Utz
They come in a huge ass plastic jar for a reason--you're meant to eat them in one sitting. Utz knows how high you got and how badly you need to deal with your massive appetite. Portion control does not exist after you've had a joint. Eat them by the handful and don't worry about sharing. No one is judging you. If they are, they're not high enough.
12. Pop-Tarts
Maker: Kellogg's
When you're high, Pop-Tarts function as sliced bread substitutes. Take peanut butter, chocolate syrup, Cool Whip, Nutella, whatever, and spread that shit on some frosted Pop-Tarts for the type of sandwich you can only enjoy while under the influence of marijuana.
11. Slurpee
Maker: 7-Eleven
Harold and Kumar went the extra mile looking for a White Castle, but the only snack that will get you off of your ass is the 7-Eleven Slurpee. Because brain freeze pairs perfectly with being high, a Slurpee will not only quench your thirst, but it'll elevate your THC experience as you stain your tongue red, purple, green, blue, and whatever hue 7-Eleven mixes with sugar and ice.
10. Top Ramen
Maker: Nissin
The quintessential struggle meal is also a favorite in the range of popular snacks for stoners everywhere. For the potheads who also moonlight as "struggle chefs"—we've seen your pictures on Instagram—tossing some hot sauce in your noodles seems to turn this stoner snack into the ultimate stoner meal.
9. Brite Crawlers
Maker: Trolli
If you head to the gas station when you have the munchies, you're walking out of there with a bag of these fluorescent gelatinous worms. The sweetness overpowers the sour taste of the tangy crystals and they'll provide you with little to no sustenance, but that's a good thing—your high will last longer.
8. Pizza Rolls
Maker: Totino's
You're not the type of weed head that's going to fuck with the oven while you're lit, but you can still operate the microwave. Since baking an entire pizza is off the table, pizza rolls are the next best thing and they're pretty fucking awesome, so you're not complaining. Totino's appeals to potheads everywhere, with flavors like cheesy garlic and meatball marinara. Just remember to re-up when you come off your high. You're going to devour the entire box in one sitting.
7. Doritos
Maker: Frito-Lay
Taco Bell knew what was up; that's why they tried to lure you into their late-night drive-thrus with those Doritos Locos tacos. And while they succeeded in getting you off the couch in your stoned stupor, you remember where it all started. Doritos straight out of the bag will never lose their spot as a classic stoner snack.
6. Cheetos
Maker: Frito-Lay
While there is never a wrong time or place to indulge in the crunchy, artificial cheesiness of Cheetos, they seem to taste better after you got lifted with Mary Jane. You gotta eat these far away from all smoking paraphernalia; staining your rolling papers with neon orange cheese powder isn't a good look. Or is it? Cheese flavored dutches? Yes. Yes, indeed.
5. Combos
Maker: Mars
Only a high person can truly enjoy the unique flavors of Combos. Pretzels with buffalo blue cheese and pepperoni pizza crackers are straight out of a stoned baker's recipe book. That's why you love 'em, though. They were created by one of your own.
4. Funyuns
Maker: Frito-Lay
Never mind the fact that your smoke session left you with a serious case of cotton mouth, these onion flavored corn chip rings are one of the go-to snacks for stoners. The salt is the last thing you need, but the first thing you crave, so you keep a bag of Funyuns on deck when the inevitable snack attack arrives.
3. Chocolate Chip Cookies
Maker: Famous Amos
Famous Amos is the man for making these mini chocolate chip cookies. The dry biscuit texture of the cookie is forgiven because those chocolate chips are this snack's saving grace. These joints are small enough to serve as toppings for that bucket of ice cream you're about to dig into.
2. Half Baked Ice Cream
Maker: Ben & Jerry's
For the fully baked who want to cure their munchies with decadence, Ben & Jerry's "Half Baked" ice cream is the premier choice. It's the perfect pint-size tub filled with half vanilla/half chocolate ice cream and equal parts fudge brownie and chocolate chip cookie dough. Ben & Jerry's expects us to believe that the name was inspired by the ingredients. Right...
1. Munchies Snack Mix
Maker: Frito-Lay
Taking the guess work out of post-joint snack selection, Frito-Lay threw all of your faves in a bag, labeled it "Munchies," and put them directly in your face on store shelves. It's like trail mix for the stoned and hungry.