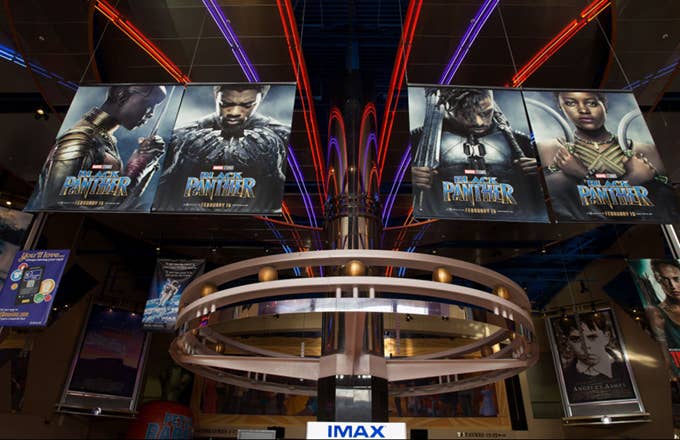 Black Panther's global ticket sales have already reached $704 million. According to comScore, the film collected $108 million at the domestic box office this weekend, bringing its North American total to $400 million. That's the second-best second weekend in movie history.
These numbers are so high that they're difficult to wrap our heads around, but for comparison's sake, Marvel's successful 2014 film Guardians of the Galaxy pulled in $773 million over the course of its entire five-month run. Globally, Black Panther is already the No. 10 highest grossing title ever for the Marvel Cinematic Universe, passing the all-time sales of both Doctor Strange and Ant-Man.
The film's incredible box office run isn't expected to slow down anytime soon. Black Panther has yet to even arrive in two of Hollywood's biggest markets, China and Japan, and theaters are reporting that they're seeing more repeat viewings than usual.
Imax's entertainment chief Greg Foster told The New York Times, "This movie has very strong word of mouth and a deeply loyal core fan base, which are both necessary criteria for repeat business."
Behind Black Panther at the North American box office this weekend was the Rachel McAdams and Jason Bateman-starring Game Night, which came in second place with an estimated $16.6 million in its opening weekend. Sony's Peter Rabbit took third place with $12.5 million, adding to its $71.3 million three-week total.
After Black Panther's record-breaking opening weekend numbers came in last week, director Ryan Coogler shared an emotional thank you note, explaining that he was moved to tears by the response and hadn't expected the film to do so well. You can read his message in full below.