 Today in totally heartwarming animal stories, a dog dubbed "Britain's loneliest dog" has finally found a home: the set of Transformers 5. After The Mirror in the U.K. created a video about Freya the Staffordshire bull terrier and her plight to be adopted by a forever home, Transformers director Michael Bay stepped up to find a job for the little lady. 
According to The Mirror, Freya was taken in at a pet shelter as a 6-week-old puppy, and has been passed over for adoption by 18,000 different potential pet parents in the six years she has spent at the Freshfields Animal Rescue Centre, a pet shelter in Liverpool. But luckily for the pooch, Michael Bay is an animal lover, and caught wind of Freya's sad state of affairs on Facebook. The latest in the Transformers series is filming in the United Kingdom this summer, so the timing really couldn't be more perfect. 
Bay was smitten enough by the lonesome terrier that he said he is willing to take Freya in as his own pet if she is not adopted by someone else, The Mirror reported.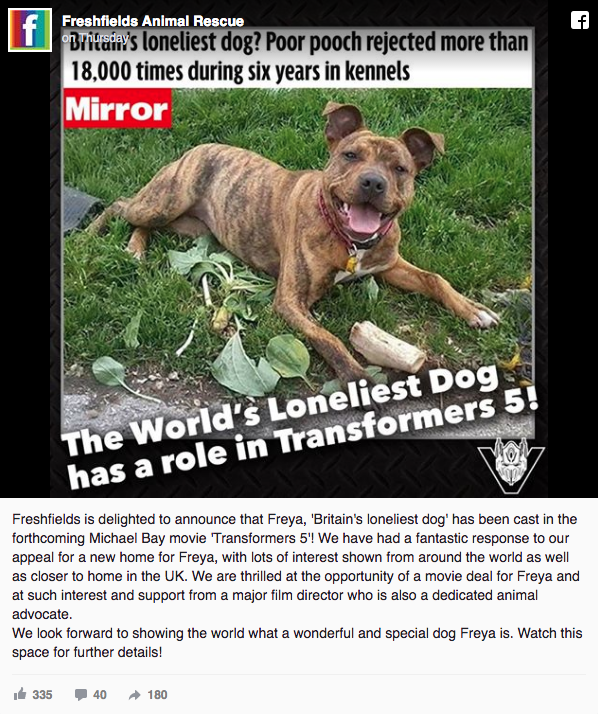 The shelter is of course thrilled at the turn of events for their beloved pup, and posted a celebratory note on Facebook, writing they are "thrilled at the opportunity of a movie deal for Freya, and at such interest and support from a major film director who is also a dedicated animal advocate."
Freshfields Animal Rescue Centre did not immediately reply to Complex's request for comment.