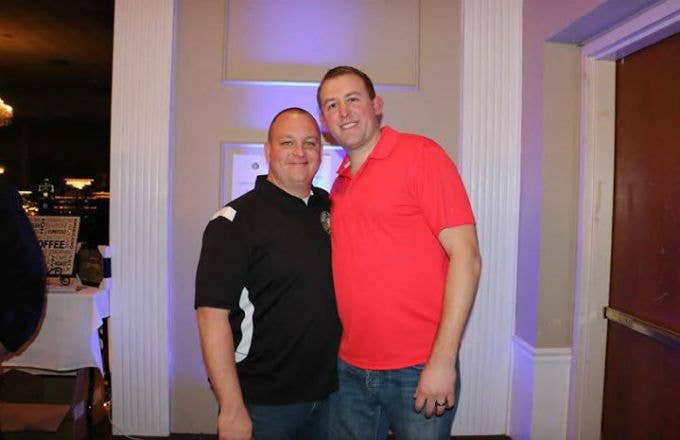 Darren Wilson, the former Ferguson police officer who shot and killed Mike Brown, appeared in public for the first time months after a grand jury decided Wilson wouldn't be indicted for Brown's death, and after it was recently announced that he would not face federal civil rights charges. Wilson not only attended, but spoke at an event for Hunt For Justice, a St. Louis area law enforcement support group whose Facebook description reads: 
The group posted a picture of Wilson posing with and an unidentified man with a caption that thanked him for being a guest speaker: 
Wilson was reportedly well received when he entered the event, which some speculate was a fundraiser for Wilson himself: 
Hunt For Justice's FB page reveals the group's posts advertising the Support Darren Wilson shirts that fundraised money for Wilson during the investigation of Brown's death, as well posts in support of Wilson. 
Even more telling of the group is one post where HFJ takes a subtle jab at Brown while commenting on an officer being killed by a 19-year-old saying,  "A Texas Law Enforcement officer killed by an UNARMED 19 year old. Probably another gentle giant who was misunderstood."
Wilson most recently garnered public support from former New York City mayor Rudy Giuliani, who said Wilson was just doing his duty when he killed Brown.