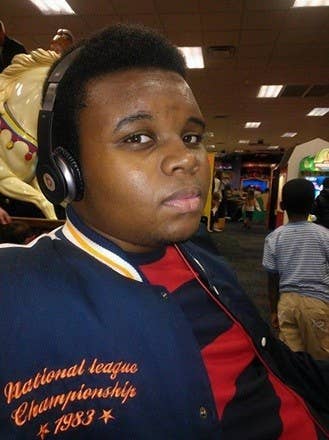 Darren Wilson, the Ferguson, Mo. police officer who shot and killed 18-year-old Michael Brown last month, told investigators that he feared for his life during the altercation. 
According to the New York Times, Wilson said that he and Brown fought for his service weapon prior to the shooting: 



The officer, Darren Wilson, has told the authorities that during the scuffle, Mr. Brown reached for the gun. It was fired twice in the car, according to forensics tests performed by the Federal Bureau of Investigation. The first bullet struck Mr. Brown in the arm; the second bullet missed.




The forensics tests showed Mr. Brown's blood on the gun, as well as on the interior door panel and on Officer Wilson's uniform. Officer Wilson told the authorities that Mr. Brown had punched and scratched him repeatedly, leaving swelling on his face and cuts on his neck.
However, the Times notes that Wilson's account of what happened does not explain why he shot Brown multiple times outside of the vehicle. An autopsy revealed that Brown was shot six times, including twice in the head. 
The Times also reports that while federal and local investigations continue, government officials have yet to identify evidence suggesting that Wilson violated Brown's civil rights.
[via New York Times]