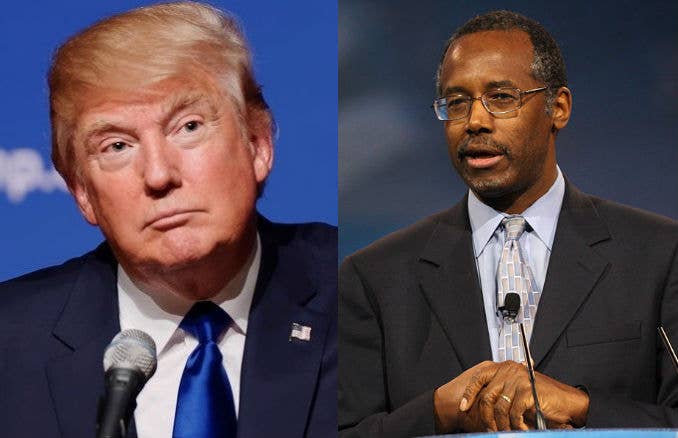 Republican candidates Donald Trump and Ben Carson have both been involved in controversial conversations about Muslims in the past week. Trump failed to discourage a supporter who called Muslims a "problem" in the U.S. and who suggested getting rid of them, in addition to incorrectly calling President Barack Obama a Muslim. Carson was blunt about his Islamaphobia saying, "I would not advocate that we put a Muslim in charge of this nation." It turns out these two maniacs are not alone in their anti-Muslim sentiments: 30 percent of Republican voters in Iowa think Islam should be illegal, according to a new poll. Because the first amendment can only be invoked when it's used to shield trash people like Kim Davis. 
The Public Policy Polling surveyed Iowans this weekend and concluded 49 percent of the state's Republicans think Islam should be legal, 30 percent believe it should be illegal, and the final 21 percent were undecided. 
The poll also found Carson to be the Republican frontrunner with 77 percent of people supporting him, with Carly Fiorina behind him at 62 percent. However, Trump still dominated the GOP field with 24 percent over Carson's 17 percent and Fiorina's 13 percent. 
[via Salon]