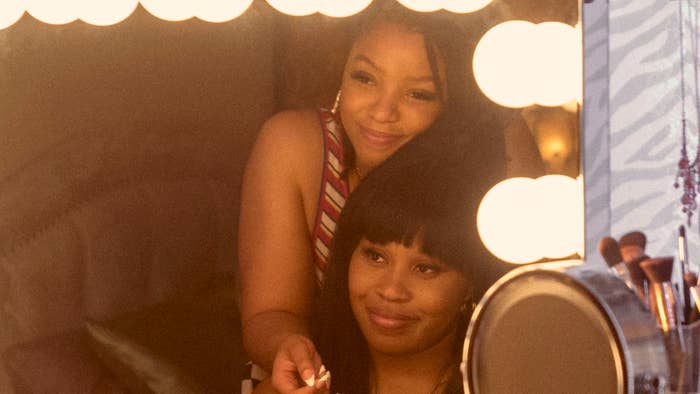 It's been one week since Prime Video's Swarm hit the platform, and fans can't stop talking about the show.
Since the show's March 17 debut, fans have put on their detective hats and conjured up different theories about the series. Swarm, which was created by Donald Glover and Janine Nabers, centers around Dre (Dominique Fishback) and her obsession with a pop singer named Ni'Jah, who has a dedicated Beyoncé-like fanbase. As the episodes unfold, Dre finds herself going to extreme measures to take down anyone who is not a fan of her idol. 
From the start of Swarm, fans get insight into Dre's obsessive behavior through her relationship with her sister Marissa, who is played by Chloë Bailey. After Bailey's character appears to die by suicide by the end of the first episode, fans have questioned whether or not Dre could be responsible for her death. 

The theories don't stop there. There's also the question of whether or not Bailey and Damson Idris' sex scene was fake or not. Glover has been known to not give any answers regarding lingering questions about his projects, like Atlanta's finale, leaving much of them up to the viewers' interpretation—and Swarm is no different. After binge-watching the show, and doing a deep dive into the wildest ideas about the series so far, here's everything you need to know.
In Episode 1, titled "Stung," Dre came home to find that Marissa had harmed herself, resulting in her death. This came after Marissa told Dre that she planned on moving in with her boyfriend Khalid (Damson Idris) and they had a heated argument. Marissa's death was not shown. There was a time-lapse between the hours of her last moments and her death. In those moments, viewers saw Dre out partying and Marissa supposedly calling and texting Dre that she needed her to come home because Khalid cheated on her. 
TikTok users have suggested that Dre killed Marissa after learning that she no longer had access to her. In Episode 6, "Fallin' Through the Cracks," viewers learned that Dre didn't always get along with others and always had a sort of toxic attachment to Marissa. Dre was also asked to leave the funeral by Marissa's parents without reason. In Episode 5, after Dre broke into Marissa's parents' home, Marissa's mother suggested that Dre came back to finish the job and kill them as well. 
"I think Dre snapped and unalived [Marissa] by over[dosing] her and [making] it seem like she self-unalived," the text on one of the viral fan theories reads.
One of the steamy scenes of Episode 1 has produced a fan theory as well. The sex scene between Damson Idris (Khalid) and Chloë Bailey (Marissa) was so convincing that some viewers believed it was real. During an interview about the show, Bailey opened up about how the sex scene was filmed. 
"Damson made it really comfortable," she recalled. "There were limited people on set. It was a closed set. We were laughing in between. We literally had a bouncy ball between us. We were making a joke out of it."

Despite that explanation, others are arguing that it looked too real to be fake. In a viral tweet, one user shared her opinion on the matter, questioning how people could think the scene is real. "Chloe and Damson were NOT actually having sex in that scene. They were ACTING. Y'all cannot be this dumb. Is this your first time watching a sex scene in a series or movie? Sex scenes are choreographed and fake. GROW UP," she tweeted.
In Episode 7, Dre made her way to Ni'Jah's concert after facing a few challenges and adding more blood on her hands to do so. While front row at the show, Dre appeared to go onstage and greet Ni'Jah. She's then stopped by security when she makes it. However, Ni'Jah, who has a face similar to Marissa's, told the guards to let her go. She invited Dre to sing to the audience, left the concert with her, and comforted Dre in the back of a vehicle as they exited the venue. 
One episode prior, Detective Loretta revealed that Dre, who now goes by the name Tony, had been arrested at a Ni'Jah concert. Viewers believe that Ni'Jah and Dre did not interact in that final scene and, instead, she was arrested. 

The theory was also backed by the idea that Dre often hallucinates. As viewers might recall, Dre was hallucinating before she bit Ni'Jah. TikTok user Dammit_Wesley suggested that Dre had been arrested but the question remains whether or not her murders will be pinned on her.
Several of Atlanta's writers, producers, and directors worked on Swarm. So it comes as no surprise that viewers believe there is a parallel between the Emmy-winning show and the Prime Video series. During the SXSW premiere of Swarm, creators Donald Glover and Janine Nabers spoke about the parallels. 
"A lot of Atlanta—at least for Seasons 3 and 4 that I worked on—was on the internet," Nabers explained. "We launched a lot of YouTube videos, a lot of memes, a lot of stuff that lived on the internet. The culture of the internet was very present in Atlanta, and it's very present in Swarm." Nabers also told Complex in an interview that they viewed Swarm as a sister series to Atlanta, thanks to its focus on music and the familial relationship at the center of the show. She also previously said that she attempted to represent Houston in Swarm the way Glover did with his hometown of Atlanta in the FX series.
After watching the series, fans have theorized that both shows have a deep connection to each other, pointing out Glover's storytelling over the years.