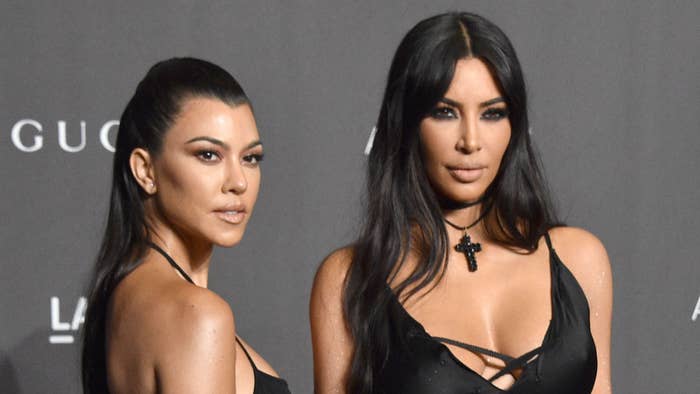 Kim Kardashian is keeping it real with her sister. 
In Kourtney and Travis Barker's wedding special Til Death Do Us Part Kourtney & Travis, which dropped on Hulu Thursday, the eldest Kardashian sister experienced pre-wedding jitters. The Lemme founder confessed that she was nervous about walking down the aisle. 
"I have just felt so emotional all day," Kourtney said. "I hate being the center of attention."
She continued, "I feel like, shaky. I feel like a banana is what I need. At this point, I have a Xanax in my room. I'm just like, shaking. I'm like, do I need to do jumping jacks? But also my legs are shaking. I feel like what if my legs collapse when I'm walking?"
The SKIMS mogul offered the bride advice about making her grand debut in front of their family and friends. Kim remembered her wedding experience with ex-husband Kanye West, whom she married in Florence, Italy in May 2014.
"One piece of advice that I'll give you is when I was walking down the aisle in Italy," Kim began, "and I had the long train, I was so nervous that it was either gonna, like, come off, that I walked so fast. Walk slow, take it in, this only happens once."
Kourtney and Travis' Italy ceremony took place on May 22, 2022, and marked the third time the couple got married. Initially, they tied the knot at a Las Vegas wedding chapel after the 2022 Grammy Awards. However, the ceremony wasn't legal. They later signed the documents they needed to say "I do" at a Santa Barbara courthouse on May 15, 2022.