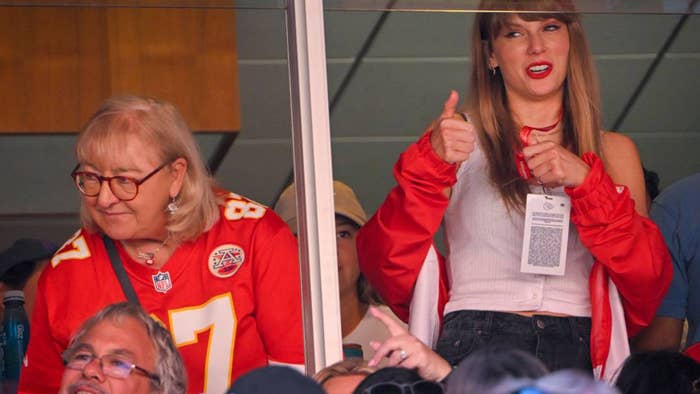 Travis Kelce's ex-girlfriend thinks Taylor Swift should be cautious.
In an interview with DailyMail.com on Tuesday, his ex Maya Benberry said that Kelce was unfaithful. "Only time will tell but like the saying always goes, once a cheater, always a cheater," she told the outlet.
"Taylor seems like such a fun girl with a beautiful spirit, so I wish her the best of luck, but I wouldn't be a girls' girl if I didn't advise her to be smart!" the 31-year-old continued. "I'm sure by now she has mastered the ability to see who is really there for her—and who is just using her."
Kelce and Benberry dated for a few months in 2016 after she won his E! reality dating show, Catching Kelce. She previously claimed that the Kansas City Chiefs player cheated on her with his next girlfriend, Kayla Nicole, whom he dated on and off from 2017 to 2022.
"When you and your ex broke up five months ago but you find out via social media that he's supposedly been in another relationship for 6…" she reportedly wrote in a since-deleted tweet.
A source told Page Six that Kelce and Benberry "weren't even together long enough for him to cheat on her," explaining that "they dated literally less than three months, and they were contractually obligated to not announce their breakup."
"So when she says, 'Once a cheater, always a cheater,' she doesn't even know what she's talking about. This is very much a 15-minutes-of-fame type of a moment for her." The person said that Kelce has been in other relationships that didn't end in cheating accusations.
Kelce and Swift have been romantically linked since mid-September. This past weekend, the singer attended his home game against the Chicago Bears and was seen cheering him on from a private suite with his mom. The rumored couple later left together in his convertible.