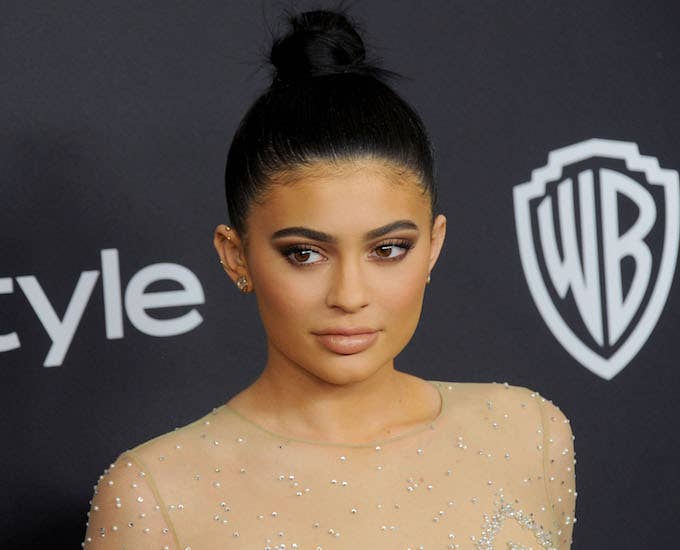 No one's taking it easy on Snapchat after they rolled out a poorly designed update, including Snap queen Kylie Jenner. On Wednesday, she took to social media and tweeted, "Sooo does anyone else not open Snapchat anymore? Or is it just me... ugh this is so sad."
Following her message, Snapchat's stock fell more than seven percent through today, The Verge reports. While there could very well be zero correlation between the two, no one can disagree that Jenner holds a lot influence in the world of social media: she has 24.5 million followers on Twitter, and 104 million followers on Instagram. She's also an extremely prominent Snap user, so her calling it quits could be disastrous for the app's user base.
With the parallel between Jenner's tweet and Snapchat's drop in stock price, it seems pretty plausible that one affected the other. After she sent her tweet out at 4:50 p.m. ET, the stock dropped more than six percent throughout the day. According to Reuters, that's a $1.5 billion fall in market value for the mobile app company.
The stock had initially fallen on Feb. 20 after Snap responded to a Change.org petition that was signed by over 1.23 million people. The campaign asked the company to bring the old design back.
Later, Jenner responded to her original tweet, saying, "still love you tho snap ... my first love." Even if her tweet didn't impact Snap stock prices, having one of their most popular users renounce the app doesn't bode well for the company.
With its millions of signatures, the Change.org petition caught the eye of Snapchat—but the company's response wasn't what users were hoping for. In a blog post, Snap wrote that it's staying with the updated design and they have plans to do more.
"By putting everything from your friends into one place, our goal is to make it easier," the blog post read. "The new Friends page will adapt to you and get smarter over time, reflecting who you're most likely to be snapping with at that moment. This same personalization is therefore true of the new Discover, which will adapt to you the more that you use it."
While Snap didn't heed its users' advice, the company did promise to "always listen closely to find new ways to make the service better for everyone." We're hoping that's true.