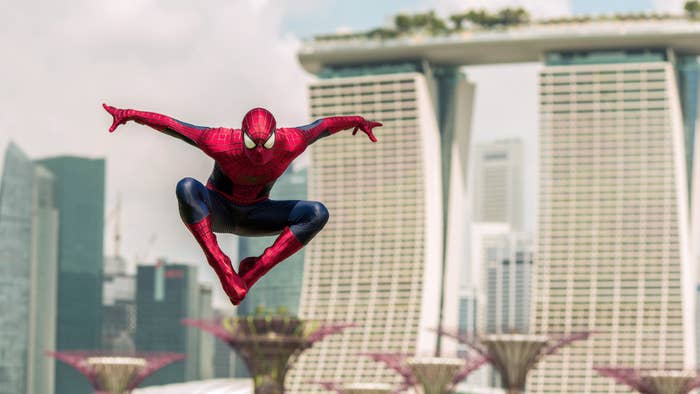 There are a handful of movies on the docket for Spider-Man.
Variety reports that the producers of the upcoming Spider-Man: Across the Spider-Verse have shared that next year will see the third chapter of the trilogy, titled Beyond the Spider-Verse.
Additionally, producer Amy Pascal revealed that there will be an animated Spider-Woman and a live-action Spider-Man with the character Miles Morales—and that a Spider-Man film with Tom Holland and Zendaya is imminent.
"You'll see all of it," she told the outlet. "It's all happening."
However, the writer's strike has put the Holland-Zendaya movie on hold. "Are we going to make another movie? Of course, we are," she said. "We're in the process, but the writer's strike, nobody is working during the strike. We're all being supporters and whenever they get themselves together, we'll get started."
Producer Avi Arad said that fans will be seeing the Spider-Woman flick "sooner than you expect." He continued, "I cannot tell you yet, but it's coming."
Spider-Man: Across the Spider-Verse hits theaters on Friday. Helmed by Joaquim Dos Santos, Justin K. Thompson, and Kemp Powers, the film sees the reprisal of Shameik Moore as Miles Morales and Hailee Steinfeld as Gwen Stacy.
"This is my dream job, sign me up over and over again," Steinfeld said about the voice role. "I got to be comfortable! And it's a dream to be in a space that feels so comfortable but also creative and free and just exciting to be a part of."
Across the Spider-Verse also features Issa Rae, Daniel Kaluuya, Jason Schwartzman, Brian Tyree Henry, Luna Lauren Velez, Rachel Dratch, Shea Whigham, Metro Boomin, Ziggy Marley, Ayo Edebiri, and Danielle Perez.