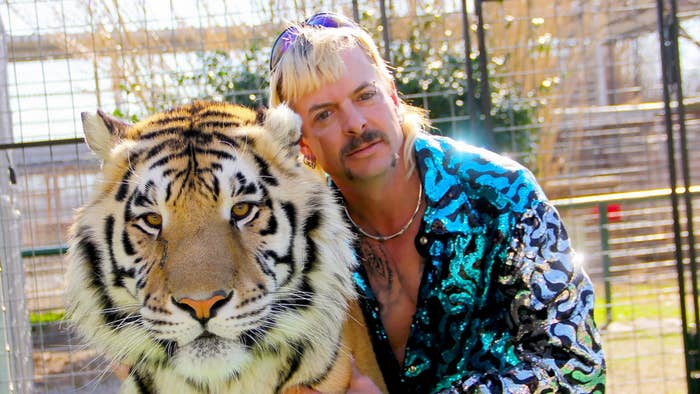 A judge reduced Joe Exotic's prison sentence by one year, bringing his original 22-year punishment to 21 years.
The Associated Press reports that the resentencing happened on Friday. The Tiger King star has been begging for his incarceration to be cut short while starting his cancer treatments. "Please don't make me die in prison waiting for a chance to be free," he told the judge at the proceedings.
The resentencing is the result of a federal appeals court deciding last year that Exotic's prison term should be reduced. He was convicted after attempting to hire two separate hitmen to kill his nemesis, Carole Baskin. It seems that Exotic's attorneys will appeal the 21-year- sentence and file for a new trial.
Baskin and her husband were present at the court proceedings, telling the outlet that she's still afraid of Exotic: "He continues to harbor intense feelings of ill will toward me." Exotic's followers were also in the courtroom to show their support, wearing t-shirts emblazoned with the phrase "Free Joe Exotic."
"I think it's fair to say that there was some disappointment in our discussion with Joe, this show is not over … Joe is hopeful that he will find justice in post-conviction relief … Joe is looking forward to next steps," Exotic's attorney J. Blake Patton told TMZ.
Exotic was sentenced in January 2020, though a three-judge panel later agreed with him that his crimes should be seen as one conviction rather than two, since his aim was to kill Baskin. Separately, he was convicted of lying on wildlife records, killing five tigers, and selling tiger cubs.
Exotic's story is also getting new life on NBC's Peacock platform. The new limited series Joe vs Carole stars Kate McKinnon as Carole Baskin and John Cameron Mitchell as Joe Exotic, and is set to debut on March 3. The show follows Baskin as she finds out Exotic is making money from breeding and mistreating big cats.