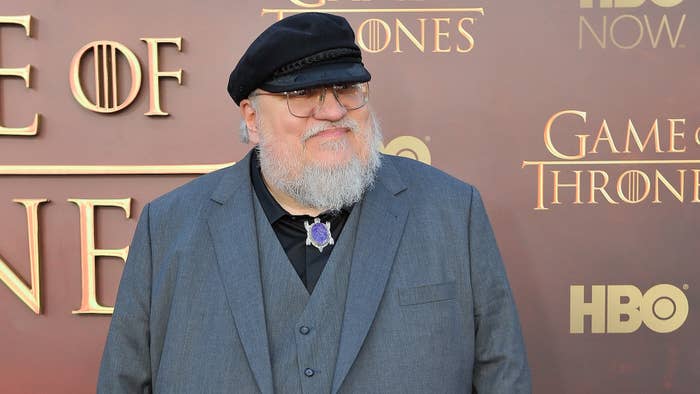 Game of Thrones and George R.R. Martin are eyeing a new stage for 2023: Broadway.
According to the Hollywood Reporter, the hit TV show is being adapted for a stage production that will run on Broadway, London's West End, and in Australia in 2023. Martin will write the story alongside Duncan MacMillan, with Dominic Cooke set to direct, and Simon Painter, Jonathan Sanford, and Tim Lawson set to produce in partnership with Kilburn Live. Perhaps the best comp would be akin to what J.K. Rowling and her team accomplished with the hugely successful stage show Harry Potter and the Cursed Child in 2016.
In terms of plot, the stage version of GoT will reportedly takes place during The Great Tourney at Harrenhal, a well-known event that happens before events of HBO's smash series. Despite the prequel vibes, it would incorporate beloved characters from the show, including Ned Stark, Robert Baratheon, and Oberyn Martell.
"The seeds of war are often planted in times of peace," Martin said in a statement. "Few in Westeros knew the carnage to come when highborn and smallfolk alike gathered at Harrenhal to watch the finest knights of the realm compete in a great tourney, during the Year of the False Spring. It is a tourney oft referred during HBO's Game of Thrones, and in my novels, Song of Ice & Fire… and now, at last, we can tell the whole story…on the stage."
"Our dream is to bring Westeros to Broadway, to the West End, to Australia… and eventually, to a stage near you," he continued. "It ought to be spectacular."
Earlier this week, news surfaced that Martin had inked a new five-year deal in the mid-eight figure range with HBO and HBO Max, as several Game of Thrones spinoffs are in development, with one already having been greenlit.