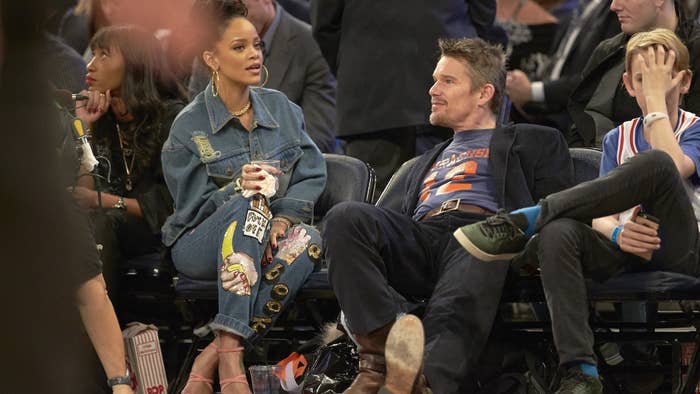 Ethan Hawke knows that he and Rihanna will be forever linked, for better or for worse/
In a new interview with Variety, the 52-year-old and his daughter, Maya, took a trip down memory lane to 2015, when Ethan was caught flirting with Rihanna after making his son switch seats with him at a basketball game.
"I've been caught by the paparazzi openly flirting with Rihanna," Ethan said, to which Maya responded, "Openly trying to."
"That's been the family shame. So you're really touching a nerve," Ethan added, with Maya correcting him. "No, it's family pride," she quipped.
The incident in question took place at the 2015 NBA All-Star Game at Madison Square Garden, where Ethan and his son, Levon, were sitting courtside next to Rihanna.
In mid-February, Ethan took to Instagram to post throwback photos from the game, which, at first, see then-13-year-old Levon sitting between his dad and Rihanna. Then, at some point, Ethan and Levon switch seats, with the actor seen chatting with RiRi.
"After Rihanna's brilliant halftime performance, I'm hoping my son can find it in his heart to forgive a Dad for taking his moment," Ethan captioned the set of photos, nodding to the singer's Superbowl show from earlier this year. Clearly, her halftime show conjured some memories for Ethan.
Ethan and Maya Hawke's new movie Wildcat recently premiered at the Telluride Film Festival. It focuses on American novelist Flannery O'Connor as she struggles to publish her first novel. It was directed, written, and produced by Ethan, and stars Maya as O'Connor. The cast is rounded out by Laura Linney, Philip Ettinger, Rafael Casal, Cooper Hoffman, Steve Zahn, Vincent D'Onofrio, Alessandro Nivola, and Willa Fitzgerald.