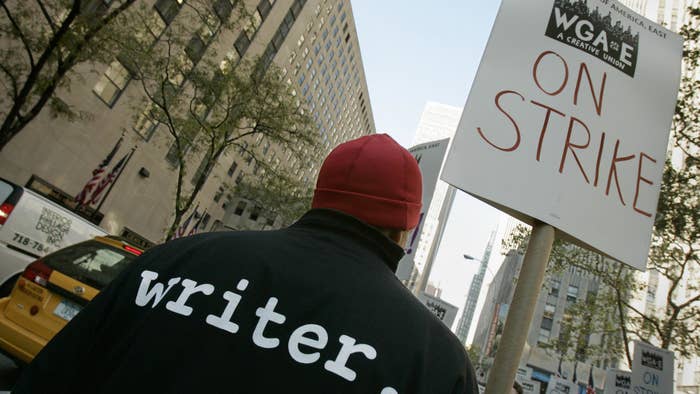 The WGA picket line took a nasty turn in Atlanta when a BMF producer threatened two writers outside of the show's set.
Writer Brian Egeston took to Twitter to share details about the incident, writing that BMF producer Ian Woolf got into an SUV, pointed it at him and fellow writer Gabriel Alejandro Garza, "as though it were a weapon and slammed the brakes within six feet of writers."
Garza, who is a strike captain, substantiated the allegations with his own account of what happened. The pair were standing side-by-side at the time, with Garza writing that they were both picketing on a public sidewalk and weren't in the middle of traffic. Still, Woolf purportedly pressed his foot on the vehicle's accelerator while "looking directly at us the entire time and kept the vehicle pointed at us."
Garza also revealed that he has a recording of Woolf attempting to "scare" them.
Egeston also described Woolf's behavior as a "scare and intimidation tactic."
Lionsgate has begun an investigation into the situation. "We take acts of intimidation and threats of violence seriously and investigate them thoroughly," the company told Deadline in a statement. "As we continue to investigate, we have sent home the individual involved."
A WGA spokesperson also denounced the situation and said that the organization is now involved in the incident.
"Workers should not be threatened with physical harm when exercising their right to publicly protest and picket against unfair wages and working conditions. Anyone who harms or threatens to harm a member or supporter of the Writers Guild on a picket line should be held responsible for their actions," the statement said.
It's unclear if Woolf is still being paid during Lionsgate's probe.