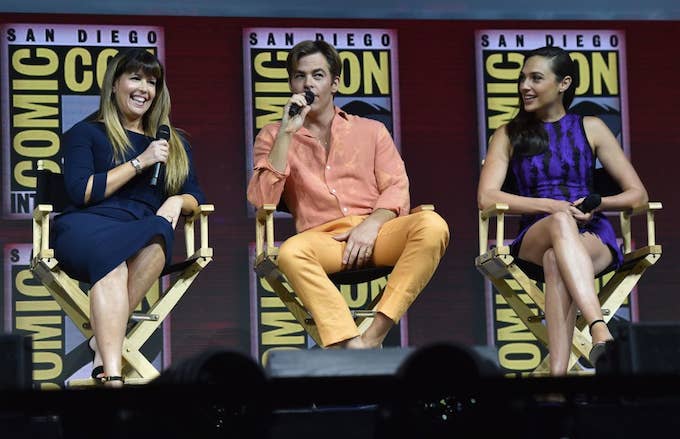 Less than a month after the Wonder Woman sequel began filming, the project's director and leading stars hit up San Diego Comic-Con day three to dish about the much-anticipated flick.
Director Patty Jenkins, along with Gal Gadot and Chris Pine, unleashed early footage of Wonder Woman 1984 exclusively for Comic-Con attendees. Though the clip has yet to surface online, several audience members have provided brief descriptions of what was shown. 
Jenkins also addressed why the second installment was set in the 1980s—a sizable time jump from the original's WWI backdrop.
"One of my favorite things about making the original was that it took place during World War I in 1917, an era full of metaphors like modernity and the mechanized world," she explained. "I grew up in the '80s, and this has its own look and feel. The reason I am excited is it showed mankind at its best and worst. It was grand and wonderful, there was great music and there were elegant and beautiful things. But other things about the decade revealed the worst of us. To have Wonder Woman in that period of time that was us at our most extreme, is wonderful."
Another detail that has fans scratching their heads is the return of Pine's role as Steve Trevor. When pressed about pressed about the character's apparent resurrection, Jenkins and Pine remained tight-lipped.
"I'm actually not really here right now," Pine jokingly said. "No, I can't ... I can't tell you that."
"What is he back here for?" Jenkins asked. "Well, it's something I'm super excited for everybody to see—the movie—to find out. It's a very important part of our movie."
Wonder Woman 1984 will hit U.S. theaters Nov. 1, 2019.