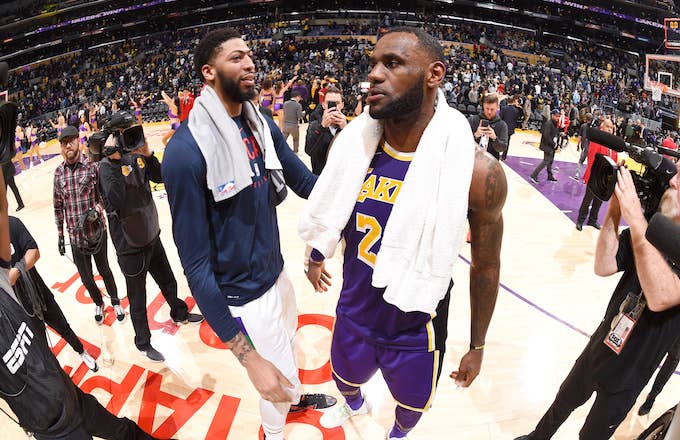 It seems LeBron James won't be the only sports star to appear in Space Jam 2.
The long-awaited sequel will reportedly feature a stellar lineup of NBA players. According to NBA insider/writer Shams Charania, the film will have key roles for Damian Lillard, Anthony Davis, and Klay Thompson, as well as WNBA players Diana Taurasi and Nneka Ogwumike.
Earlier this year, it was reported that James was struggling to convince his fellow athletes to appear in the Terence Nance-directed film.
"He's been recruiting players to come and try and be in Space Jam with him this summer, and he hasn't been able to close some of those deals," Brian Windhorst said on ESPN's The Jump back in April. "Some of the top guys he wants to come with him to do the movie."
The news was especially alarming as it arrived just months before the sequel was set to begin production.
James will take on the the film's lead role in the film, with Black Panther director Ryan Coogler serving as producer. 
"The Space Jam collaboration is so much more than just me and the Looney Tunes getting together and doing this movie," James told the Hollywood Reporter. "It's so much bigger. I'd just love for kids to understand how empowered they can feel and how empowered they can be if they don't just give up on their dreams. And I think Ryan did that for a lot of people."
The original Space Jam premiered in 1996, with a cast that included Michael Jordan, Bill Murray, Larry Bird, Charles Barkley, and Patrick Ewing.
Space Jam 2 is expected to U.S. theaters July 16, 2021. We'll keep you posted as more details about the sequel become available.