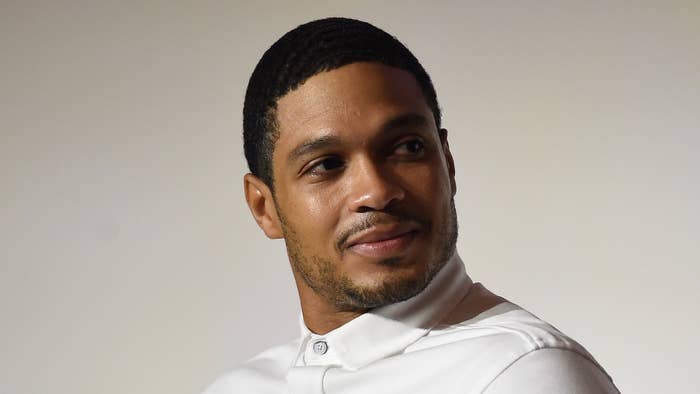 Ray Fisher is still waiting for an apology.
On Friday night, the 34-year-old actor took to Twitter to reiterate his allegations against Warner Bros. Fisher, who portrayed Victor Stone, a.k.a. Cyborg, in the DC Extended Universe, was responding to the studio's Black History Month tribute tweet, in which it showcased some of the Black actors who have played its heroes, like Will Smith as Deadshot, Jurnee Smollett as Black Canary, and Idris Elba as Bloodsport.
"This Black History Month, we're spotlighting some of our favorite DC characters," the tweet read. "Here's to the powerful moments and the entertainment they've brought to the big screen!"
Fisher responded with a serious suggestion.
"OR….you could try spotlighting an apology to the non-fictional Black people affected by your company's racist and discriminatory practices," he wrote.
Fisher made his DCEU debut in 2016's Batman v Superman: Dawn of Justice. He reprised his role as Cyborg for 2017's Justice League, which is when his issues with the studio began. After director Zack Snyder stepped away from the film, Warner tapped writer/director Joss Whedon to finish the production. Fisher claimed Whedon engaged in "gross, abusive, unprofessional" behavior on set, saying it was enabled by DC Films and Warner Bros. executives. 
"Prior to the Justice League reshoots of 2017, racially discriminatory conversations were had and entertained—on multiple occasions—by Warner Bros. Pictures executives: Toby Emmerich, Geoff Johns, and Jon Berg," Fisher wrote in late 2020. "Had I been aware of those conversations in realtime, I would have addressed them in realtime. However—it wasn't until the summer of 2020 that individuals who were in those meetings felt comfortable sharing with me what they had witnessed firsthand."
He continued: "When it comes to matters involving race, I always try to give the benefit of the doubt to those who may be ignorant of their own biases. But when you have studio executives (particularly Geoff Johns) saying, 'We can't have an angry Black man at the center of the movie'—and then those executives use their power to reduce and remove ALL Black people from that movie—they are no longer entitled to any belief associated with doubt."
That statement came just months after it was announced that Cyborg had been written out of DC's The Flash movie led by Justice League co-star Ezra Miller.
Warner Bros. has not publicly commented on Fisher's latest tweet. Fans, however, have once again expressed support for the True Detective actor, using the hashtag #IStandWithRayFisher.
To this day, Fisher's pinned tweet is a February 2021 allegation against Warner Bros. and its DC Films president Walter Hamada, saying they "tried to destroy a Black man's credibility, and publicly delegitimize a very serious investigation" by lying in the press.