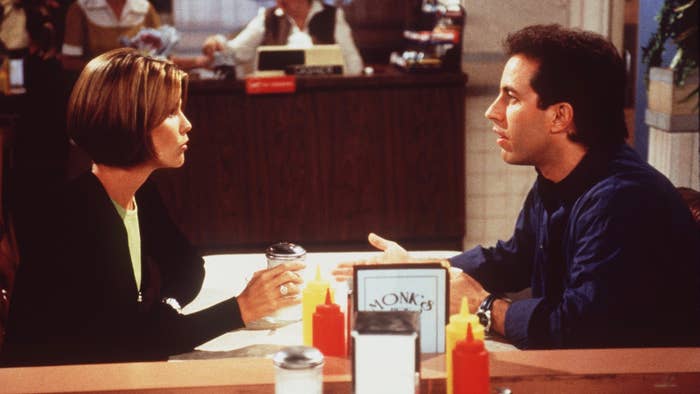 Seinfeld fans aren't pleased with Netflix.
Hours after the award-winning sitcom hit the streaming giant Friday, a slew of viewers took to Twitter to express their disappointment over its new look. As pointed out by Rolling Stone, Netflix is airing the show in with an aspect ratio of 16:9, rather than its original 4:3. The former is said to offer audiences a much more "modern look," as the standard widescreen is best suitable for high-definition TVs; however, the switch from a full/square screen has literally cut out some of Seinfeld's most iconic jokes.
Case in point: a memorable scene from "The Pothole" episode from season 8, in which George Costanza (Jason Alexander) is seen complaining about the titular erosion while on the street with Jerry Seinfeld. In the original broadcast, audiences got a clear look at the pothole question, but thanks to the Netflix cropping, the pothole isn't initially seen. Perhaps even more frustrating is that the ratio also cuts out Seinfeld's sneakers, which became an unexpected highlight throughout the series' run.
Disney+ faced similar backlash in 2019 when it began streaming The Simpsons in widescreen rather than full-screen. The cropping prompted fans to issue a wave of complaints, eventually leading Disney+ to offer viewers the 4:3 option. There's no word on whether Netflix intends to make a similar move, as it has yet to publicly address the issue.
You can read some of the reactions to Netflix's 4K upgrade below.