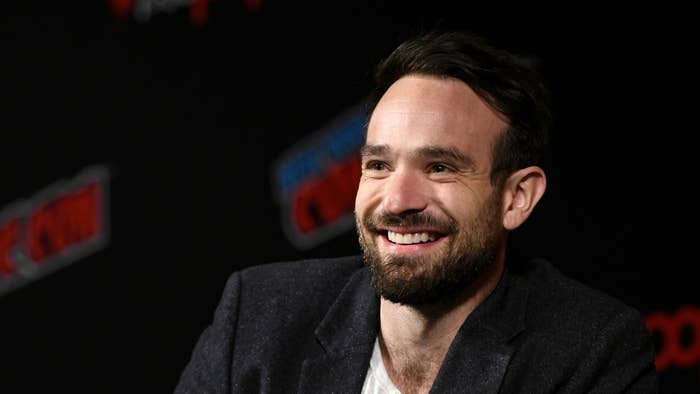 It's confirmed. Charlie Cox has secured another Daredevil series.
As reported by Variety, the 39-year-old actor will reprise his role as Matt Murdock in the Disney+ show Daredevil: Born Again. Marvel boss Kevin Feige shared the news during a Saturday panel at San Diego Comic-Con, announcing the series will premiere in spring 2024 with an 18-episode season.
Cox portrayed the Man Without Fear between 2015-2018 in the Netflix Daredevil series, which also starred Vincent D'Onofrio as Kingpin/Wilson Fisk. Feig confirmed D'Onofrio will also appear in the upcoming show, reportedly written by Matt Corman and Chris Ord. 
The studio has not shared any more details about the project.
There have been whispers of a Daredevil revival over the past year, after Cox's Murdock made a surprise appearance in 2021's Spider-Man: No Way Home. He spoke about the cameo in a February interview with RadioTimes.
"I got a phone call saying, 'Do you want to come back? Do you want to be in Spider-Man?' and I was like, 'Obviously, yeah! That would be amazing. I'm thrilled. I'd love to do that.' They said 'Great, we'll be in touch.' and then I didn't hear anything for, like, two months!" he said. "I did get to the point where I was like, 'Did I dream this?' – I definitely got to the point where I was, like, 'I don't know what's gonna happen.' But then I got a follow-up phone call."
On Friday, Marvel's animation team confirmed Cox will voice Daredevil in Spider-Man: Freshman Year, an animated series that will hit Disney+ in 2024. He's also expected to reprise the role in the upcoming Marvel series She Hulk: Attorney at Law and Echo.
Stay tuned as more information about Daredevil: Born Again becomes available.