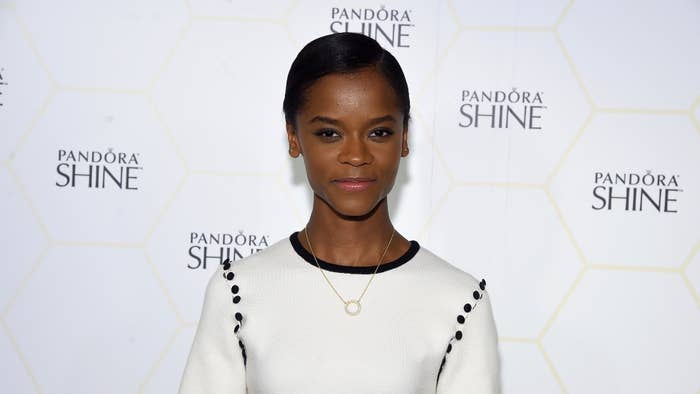 UPDATED 10/13, 9:33 p.m. ET: Letitia Wright has denied reports she espoused anti-vaxx comments while on the set of Black Panther 2. The British actress addressed the controversy via Instagram on Tuesday, insisting the allegations were false.
"It saddens me to have to address the reports published by The Hollywood Reporter on October 6th 2021," she began. "The report spoke about my conduct on the set of Black Panther 2. I honestly assert that this was completely untrue. Anyone who knows me or has worked with me, knows that I work incredibly hard at my craft & my main focus is always to do work that's impactful and inspiring. That has been & will continue to be my only focus."
You can read her full statement below.
See the original story below.
It seems Letitia Wright is still a vaccine skeptic.
According to The Hollywood Reporter, the 27-year-oldBlack Panther star has continued to share her anti-vaxx stance while on the set of the MCU sequel in Atlanta. The details of her alleged comments remain unclear, but Wright was widely criticized in late 2020 after she shared a video that questioned the safety of COVID-19 vaccines. 
The 69-minute video featured London church leader Tomi Arayomi, who described himself as a "big sceptic of needles and vaccinations in general." Social media users immediately slammed Wright over the post, and labeled her an anti-vaxxer. She initially responded to the criticism with the following statement: "If you don't conform to popular opinions. but ask questions and think for yourself….you get cancelled."
Wright also suggested she wasn't against vaccines, but was simply asking questions. "My intention was not to hurt anyone, my ONLY intention of posting the video was it raised my concerns with what the vaccine contains and what we are putting in our bodies. Nothing else," she said.
Wright's MCU co-star Don Cheadle responded to Wright's post by calling the video "hot garbage."
"Jesus… just scrolled through. hot garbage," the actor wrote in a now-deleted tweet. "Every time i stopped and listened, he and everything he said sounded crazy and fkkkd up. i would never defend anybody posting this. but i still won't throw her away over it. the rest i'll take off twitter. had no idea."
According to THR, Wright parted ways with her U.S. team of representatives in wake of the vaccine controversy.
The publication also points out not every production has implemented a vaccine mandate, causing some to shut down due to a positive COVID test among its talent or crew. However, Disney is reportedly set to enforce stricter guidelines later this month, when the studio will require proof of vaccination status for its employees.