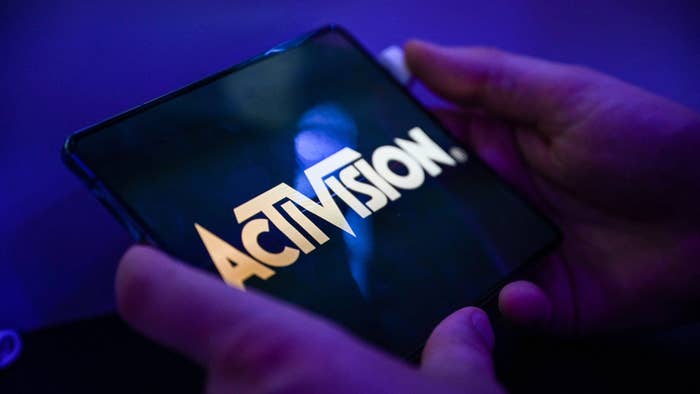 The Microsoft-Activision deal may be in jeopardy.
According to the New York Times, the Federal Trade Commission has filed an antitrust lawsuit to block Microsoft's acquisition of the popular video game-maker. The tech giant announced the $69 billion deal at the top of the year, claiming the move would expand its Xbox Cloud Gaming service and help it compete with leading gaming companies, such as Sony and Tencent. However, regulators around the world have objected to the acquisition, arguing it would give Microsoft too much leverage within the video game market.
FTC officials say the deal could harm competitors by limiting their access to Activision's blockbuster games—like Call of Duty, World of Warcraft, and Diablo—as well as result in higher prices for consumers.
"Microsoft has already shown that it can and will withhold content from its gaming rivals," said Holly Vedova, director of the FTC's Bureau of Competition, in a statement. "Today we seek to stop Microsoft from gaining control over a leading independent game studio and using it to harm competition in multiple dynamic and fast-growing gaming markets."
Microsoft President Brad Smith responded to the complaint in a statement on Thursday, shortly after FTC commissioners approved the lawsuit by a 3-to-1 vote.
"We continue to believe that this deal will expand competition and create more opportunities for gamers and game developers," Smith said. "We have been committed since day one to addressing competition concerns, including by offering earlier this week proposed concessions to the FTC. While we believed in giving peace a chance, we have complete confidence in our case and welcome the opportunity to present our case in court."
In an internal memo obtained by Deadline, Activision Blizzard CEO Bobby Kotick told employees that he's still confident in the acquisition getting done, adding, "The allegation that this deal is anti-competitive doesn't align with the facts." 
Kotick believes the deal will benefit everyone from players to employees to the video game industry by giving customers what they want most: a choice. "We believe these arguments will win despite a regulatory environment focused on ideology and misconceptions about the tech industry," his message reads.