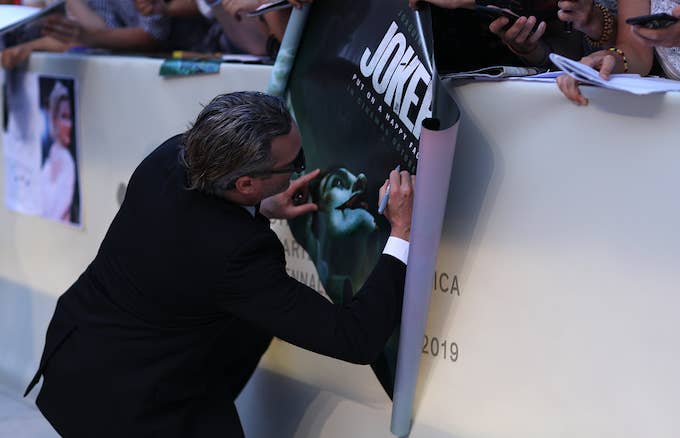 The first reviews for Todd Phillips' Joker are pouring in, and it's safe to say fan anticipation has surged.
Following the movie's premiere at the Venice Film Festival this weekend, critics collectively declared Joker a massive success. The R-rated thriller was particularly praised for straying from the typical formula of comic book films, and instead delivering a gritty, mature story about a societal outcast who becomes deranged. Many also noted the strong Martin Scorsese vibes, specifically citing Taxi Driver (1976) starring Robert De Niro.
"[Joker is] a true original that's sure to be remembered as one of the most transgressive studio blockbusters of the 21st century," wroteIndieWire's David Ehrlich. "It's also a toxic rallying cry for self-pitying incels, and a hyper-familiar origin story so indebted to Taxi Driver and The King of Comedy that Martin Scorsese probably deserves an executive producer credit."
Others compared Phoenix's portrayal of the Joker to Heath Ledger's critically acclaimed performance in The Dark Knight. Mark Hughes of Forbes applauded Phoenix for bringing a new, unexpected dimension to the iconic villain, and even went so far as to say Phoenix may have outperformed the late Ledger.
"It's impossible to talk about this without referencing Heath Ledger's Oscar-winning performance from The Dark Knight, widely considered the definitive live-action portrayal of the Joker, so let's talk about it," Hughes wrote. "The fact is, everyone is going to be stunned by what Phoenix accomplishes, because it's what many thought impossible—a portrayal that matches and potentially exceeds that of The Dark Knight's Clown Prince of Crime."
During a press conference at the Venice Film Festival on Saturday, Phoenix told reporters that he did not base his performance on any previous Jokers, including Ledger's. "I didn't refer to any past iteration of the character," Phoenix said, as reported by Variety. "It just felt like something that was our creation in some ways."
Critics also noted the film's political undertones—as it addresses subjects like class warfare, anarchy, and populism. CinemaBlend's Eric Eisenberg writes that, because of this, the film will likely draw polarizing reactions; however, he's confident that despite your political views, you'll want to see it more than once. 
"Joker is bound to be the subject of controversy upon its release, but it's a controversy that it invites by leaving a great deal open for interpretation," he said. "Everybody is going to have their own particular political read. And then all of those opinions are going to flip when the movie is screened a second time. You'll definitely feel like you'll need a shower after seeing it, but once you've dried off and changed clothes, you'll want to do nothing else but parse and dissect it."
Clearly, Joker is a must-see for all comic book fans and cinephiles alike. If you're still not convinced, check out the video below in which the Venice Film Festival audience gave the movie an eight-minute standing ovation at the end of its screening.
Joker will hit theaters Oct. 4.