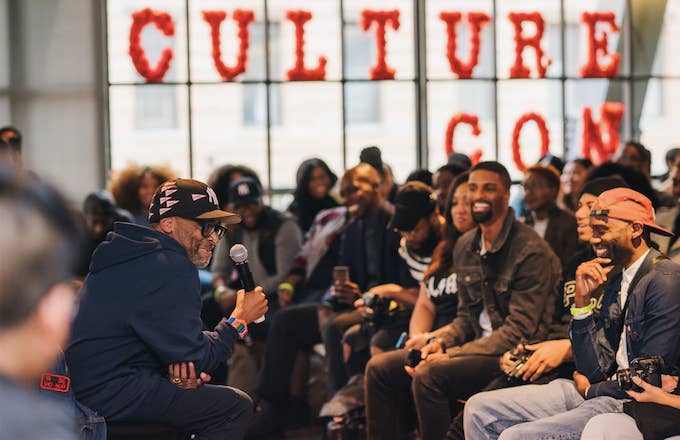 CultureCon is upon us.
Formed by The Creative Collective NYC, the one-day conference will go down next month in Maspeth, New York, where creatives and entrepreneurs of color will celebrate their influence on society. This year's event will be MC'd by broadcaster and journalist Taylor Rooks, and will include speakers like La La Anthony, Trevor Jackson, DeRay Mckesson, and Charlamagne tha God.
"I'm excited to do CultureCon because my friend Rachel Edwards at Viacom told me it's a cool vibe for creatives of color," Charlamagne said, "and she asked me if I was speaking at CultureCon last year, but I wasn't. But I am this year, so now Rachel thinks I'm cool and that's important to me."
Rooks added: "CultureCon is one of the best events of the year. It's an opportunity to bring such an array of talented and influential people of color to one space and you can genuinely feel the energy. It's amazing to hear from some of the top figures in the industry and get an up-close look into what makes the culture. It's not an event, it's an experience. Every person will leave feeling inspired and empowered."
CultureCon 2018 will also feature workshops, panel discussions, and fireside chats. 
"We set out to create a conference for us, by us, and it's been so incredible to see the response so far," Imani Ellis, founder of The Creative Collective, said. "Our goal is to curate brave spaces for creatives of color and there is truly some special about the collective energy that emerges when you've built something with your community."
The event will take place Oct. 13. You can learn more about the conference, including ticket information, at CultureCon's official website.