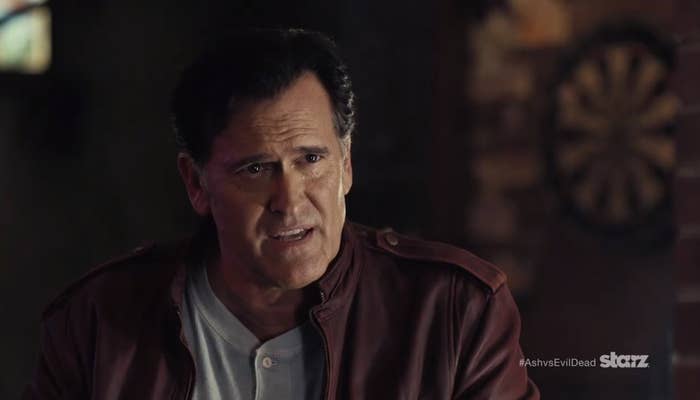 The long-awaited Evil Dead reboot Ash vs. Evil Dead won't officially air until Halloween, but Starz has gifted us the series' first four minutes in full on its Facebook page. Compared to the second trailer for Ash, which was incredibly gruesome, the series begins on a benign note with an aging Ash pulling a leather corset across his straining gut (It's been more than 30 years since Ash fought off ghouls in 1981's Evil Dead—you can't blame him for letting himself go a little.) 
But Ash doesn't let a little weight gain stop him from spitting game at his local dive bar. He swaggers in, slams his wooden hand on the table, and tells the woman across from him about the time he saved an 8-year-old boy from a speeding train. Coincidentally, today is the anniversary of his heroic act, which he always celebrates by getting black-out drunk. Would she care to join? 
Cut to conspicuous grunts and moans coming from the women's restroom. Ash is going grey, but he hasn't lost his touch. Unfortunately the four-minute clip ends on a cliffhanger; instead of making it easier to wait until Halloween for the full pilot, Starz' clip leaves us dying to find out what happens next. Well played, Starz. Well played.