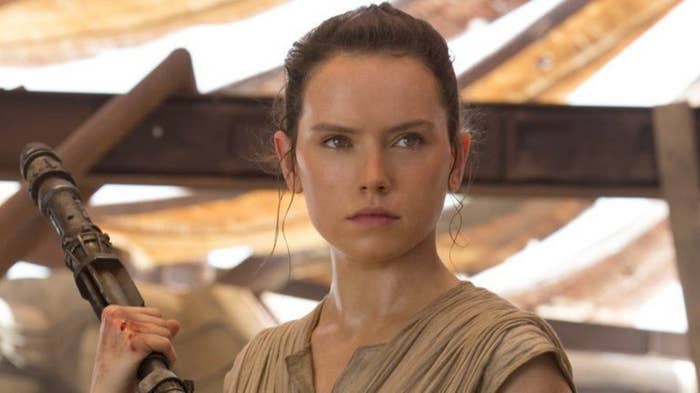 UPDATE (16/04/2016): Entertainment Weekly reached out to J.J. Abrams to ask for clarification on his original comments. Indirectly supporting the fan theory that Luke Skywalker is Rey's father, Abrams told EW​, "What I meant was that she doesn't discover them in Episode VII. Not that they may not already be in her world." 
See the original story below.
The biggest mystery from Star Wars: The Force Awakens (yes, even bigger than C-3PO's red arm) was one that felt crazy familiar when it comes to that franchise: Who are Rey's parents? Well, director J.J. Abrams might have shed a bit of light on that mystery today.
Rey, seemingly abandoned, but maybe hidden, on a desert planet where she toils among the trashed ships for the a-hole alien Unkar Plutt, doesn't make it clear in The Force Awakens exactly how much she even knows about her parents' identity, but there were plenty of clues that led audiences to believe she's a Skywalker, from her uncanny mechanical abilities and her powerful-yet-undeveloped force powers, to the fact that she is basically the same character as Luke Skywalker in Episode IV.
Speaking at a director's talk event with Chris Rock during New York's Tribeca Film Festival today, Abrams answered a young audience member's question about Rey's parents with a response that is going to be analyzed by Star Wars fans probably right up until we get a definitive answer (hopefully with the release of Episode VIII in 2017).
During a Q&A, the boy asked the director flat out: Do Rey's parents appear in The Force Awakens? Abrams said that no, they do not. Just to be clear, that would rule out Luke Sykwalker, Leia Organa, Han Solo, and yes, Admiral Akbar (although the odds on him were fairly slim).
And just like that, the biggest parental mystery since that last episode of Maury continues. Just to be clear, Abrams has been deceptive before when it comes to protecting spoilers from upcoming movies. Before Star Trek Into Darkness came out, he said that Khan wasn't in it, and we all know how that turned out.