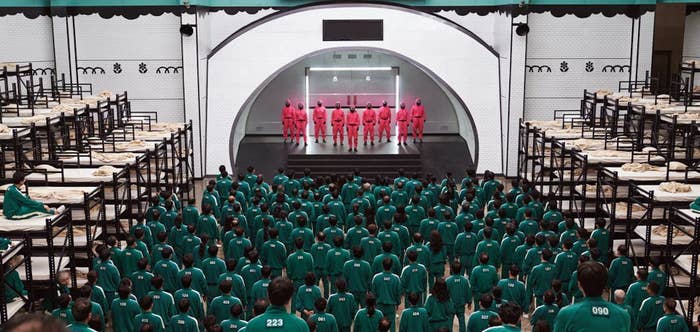 A Korean man is receiving thousands of unwanted calls after his phone number was featured in the hit Netflix series Squid Game.
The South China Morning Post reports the man, who's in his 40s and currently lives in Gyeonggi Province, told local news station MBC that he's been getting around 4,000 phone calls a day since the series premiered. He claims most of the calls are from kids who "wanted to be in the game."
For those who aren't up to speed: In the first episode of the South Korean series, a mysterious man gives business cards containing an eight-digit number to contestants interested in participating in the survival game.
According to local newspaper Hankook Ilbo, Netflix is in negotiations with the phone number owner to resolve the issue. Meanwhile, South Korea's National Revolutionary Party's honorary chief, Huh Kyung-young has offered to acquire the phone number for 100 million won ($85,000 USD).
"I heard that the owner of the phone number showed on a business card in Squid Game is suffering serious damage from prank calls," Kyung-young wrote in a recent Facebook post. "I would like to buy the number for 100 million won."
Since its debut on September 17, Squid Game is on track to become the most popular Netflix show ever.
"There's a show on Netflix right now that is the No. 1 in the world, like everywhere in the world. It's called Squid Game," Netflix CEO and chief content officer Ted Sarandos said at Vox Media's Code Conference. "Squid Game will definitely be our biggest non-English language show in the world, for sure."
Sarandos added that it has "a very good chance it's going to be our biggest show ever." "We did not see that coming, in terms of its global popularity," he admitted.
You can catch up on everything you need to know about Squid Game here.