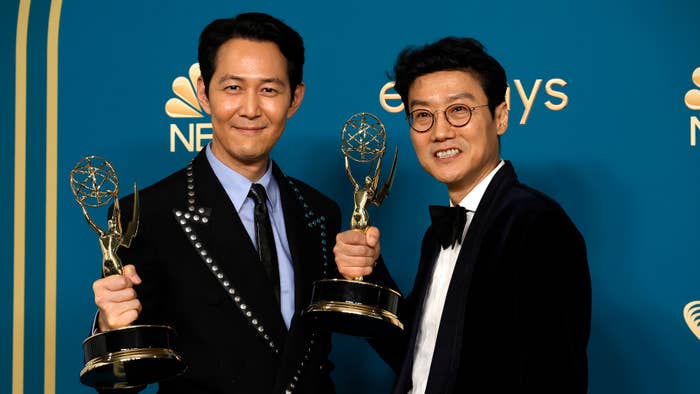 Squid Game was victorious at Monday's 74th Annual Primetime Emmy Awards, as Netflix's hit 2021 series took home six awards, including actor Lee Jung-jae winning outstanding lead actor in a drama series and director Hwang Dong-hyuk taking the award for top director.
While speaking to reporters after the show, Squid Game creator Hwang dong-hyuk was asked about Netflix's upcoming reality series based on the South Korean phenomenon, which will see contestants compete in games inspired by the show. 
"Yes, I am aware of the reality show being created," Hwang said. "I actually met with the creator yesterday, and they had many questions for me. What I hope is that they will be carrying on my vision and intention as much as possible for the show."
Hwang went on to address "concerns" some fans have about the "heavy message" behind the original show, and how it will influence Squid Game: The Challenge.
"I think that even though our show does carry quite a heavy message — and I know that there are some concerns of taking that message and creating it into a reality show with a cash prize," Hwang said backstage at the ceremony. "However, I feel like when you take things too seriously, that's really not the best way to go for the entertainment industry. It doesn't really set a great precedent."
Hwang added, "I would say that reproductions of such efforts are going to bring new meaning to the industry, and I hope that this is going to be a great new direction for the industry overall."
Back in June, after confirming a second season of the smash show, Netflix announced Squid Game: The Challenge, which will feature a total of 456 contestants competing for $4.56 million, reportedly the largest cash prize in the history of reality TV.
"Squid Game took the world by storm with Director Hwang's captivating story and iconic imagery. We're grateful for his support as we turn the fictional world into reality in this massive competition and social experiment," Brandon Riegg, Netflix's vice president of unscripted and documentary Series said in a statement at the time. "Fans of the drama series are in for a fascinating and unpredictable journey as our 456 real world contestants navigate the biggest competition series ever, full of tension and twists, with the biggest ever cash prize at the end."