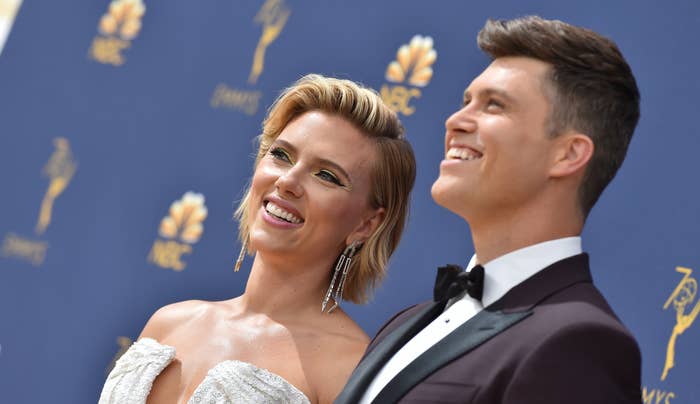 Just a month after it was first reported that they were expecting a child, Scarlett Johansson and husband Colin Jost have welcomed their first baby together, People reports.
Johansson's rep, Marcel Pariseau, confirmed to the outlet that the 36-year-old actress recently gave birth to her second child. She is also the mother to daughter Rose Dorothy, who turns 7 years old this fall.
Johansson and Jost were first linked in the spring of 2017 after she hosted SNL. He proposed in May 2019, and the couple tied the knot last October with an understated ceremony.
The news arrives just a few days after Jost confirmed they were going to be parents while performing at a stand-up gig at the Ridgefield Playhouse in Connecticut. "We're having a baby, it's exciting," the 39-year-old said, according to Us Weekly.
Back in June, Johansson sparked pregnancy rumors after skipping out on several Black Widow events.
"She hasn't been doing many interviews or events to promote Black Widow, which is surprising since it is a huge Marvel/Disney release and she is both the star and an executive producer," a source explained to Page Six at the time. 
Earlier this month, Johansson filed a lawsuit against Disney over the release of Black Widow, alleging that her contract was breached when Marvel's parent company released the film on the Disney+ platform alongside its theatrical run.
According to Johansson, an agreement with Marvel Entertainment included the guarantee of a theater-only release. Furthermore, the suit states, Johansson's salary was based "in large part" on how well the film—which also stars Florence Pugh and David Harbour—did at the traditional box office.
Per Deadline's Mike Fleming Jr., Disney issued its scathing response to Johansson's lawsuit while she was in labor. "I was away when the lawsuit dropped, followed quickly by a barbed Disney response pegged to Bob Chapek," he said recently. "Much has already been written about it. But did you know, Peter, that when Disney issued that abrasive statement questioning her lack of sensitivity or even recognition of the pandemic, and noting her $20 million Black Widow paycheck, that Johansson was at that moment in the hospital in labor, having her and Colin Jost's first child? Now, she was just as heavily pregnant when her lawsuit against Disney was filed, and how could Disney know the stork was arriving so imminently. But talk about terrible timing!"