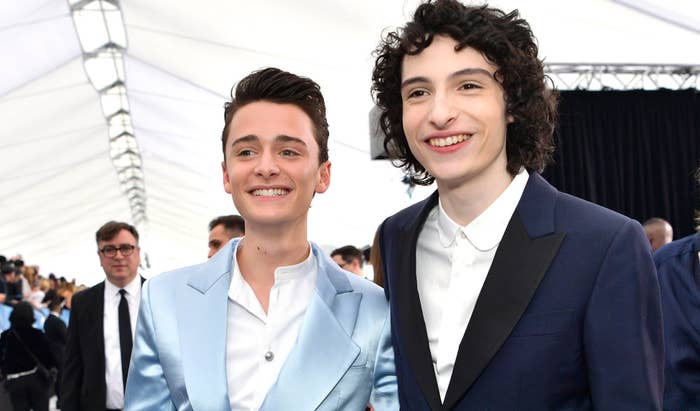 Ever since Season 3 of Stranger Things premiered back in 2019, fans of the hit Netflix series have been theorizing that Noah Schnapp's character Will Byers is gay.
Fresh off the release of Season 4: Volume 1, fans seem to believe that the show's creators are ready to give a definitive answer regarding Will's sexuality. In Episode 5, Schnapp's Will appears to suggest he's pondering whether to come out to Finn Wolfhard's Mike, as the pair have a heart-to-heart moment.
"Sometimes I think it's just scary to open up like that, to say how you really feel, especially to people you care about the most," Will tells Mike, "because what if they don't like the truth?"
Over the weekend, Digital Spy caught up with Finn, who addressed the possibility that Will is gay.
When asked if he believes Will's feelings for Mike are "shifting towards a more endearing, kind of heartfelt, romantic affection," Finn replied: "Yeah. I think you find out slowly through the season, Will's kind of love towards Mike and I think it's a really beautiful thing."
It isn't the first time Finn has spoken about the subject. In a 2019 with the Hollywood Reporter, Wolfhard discussed a Season 3 scene in which Mike tells Will that it's "not my fault you don't like girls."
"There were a lot of different versions of that scene," Finn explained. "We tried, 'It's not my fault you don't like girls yet.' So, we did a bunch of different things to it, and it was up to the Duffers."
Finn added, "I don't even know if it had to do with Will's sexuality. I think Mike was just mad and listing a genuine fact that he's not interested. So, I guess we'll see what it really meant, but it's all up to the Duffers and what they want to do."
Meanwhile, executive producer Justin Ivey, who directed the aforementioned Season 3 episode, recently chatted with Entertainment Weekly about Will's sexuality.
"It's not specific to sexual orientation or anything," Ivey said about Mike's "don't like girls" line. However, he did admit that he understands why fans are speculating. "Ever since then, a lot of these questions have come up," he shared.
Levy went on to say that fans should rest assure that all their questions will be answered in due time, saying that "there aren't many accidents on Stranger Things."
"Without getting into where we go later in season 4 [Volume II], I guess I'll just say that there aren't many accidents on Stranger Things," Levy explained. "There is clear intention and strategy and real thought given to each and every character. So, if you came away from Volume I feeling those bread crumbs of plot and character, it's probably no accident."