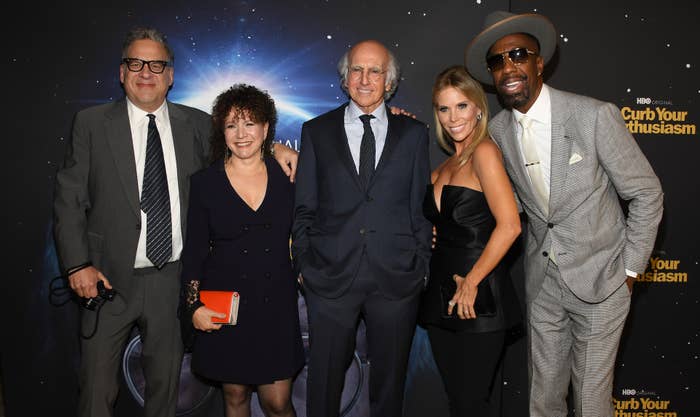 UPDATED 4/4, 7:59 a.m. ET: Not so fast.
Jeff Schaffer, executive producer, says "every season is the last season" in the eyes of those involved with Curb Your Enthusiasm's twelve seasons of hilarity. In an extended statement to Deadline, Schaffer noted that this has been the approach for the duration of the HBO comedy, with star and creator Larry David ending each new season with the assumption that he's done for good. "Usually," Schaffer explained, that feeling is abandoned when David has more inspiration-spurring "spirited encounters" in the Los Angeles area.
"Reports of our demise have been greatly exaggerated," Schaffer told the publication.
Curb is set to return to HBO for its twelfth season later this year.
See original story below.
The upcoming 12th season of Curb Your Enthusiasm might very well be the final run for Larry David's hit HBO series.
In a since-deleted tweet, Jon Hayman, a producer for Curb since 2017, said this is the end of the road.
"Maybe you love the show. Maybe you hate the show. Maybe you don't give a shit. In any event, shooting the last scene of the last episode of the final season," Hayman captioned an on-set photo of himself alongside the crew, with 75-year-old Larry staring at a monitor.
HBO hasn't commented on whether the days are numbered for Curb Your Enthusiasm, which premiered in 2000 and aired its 11th season finale in December 2021. The Hollywood Reporter wrote Tuesday that insiders indicate the show is "likely to end" this year and that "the final episode felt like a homecoming" for the team.
"One caveat is that HBO has long had an open-door policy with Curb, and defers to the creator and star on whether or not David wants to return," the magazine reports, pointing out that executive producer Jeff Schaffer "has explained previously, every season is always the last, until David decides creatively that he has more ideas."
Hayman's tweet arrived a couple days after actor/comedian Richard Lewis also mentioned filming his own final scene of Season 12.
"There I was a few hours ago in my trailer on location to shoot my last scene of #Curb12," Lewis, 75, captioned a photo of himself. "Hard to believe we started in 2000. The cast and crew all knew we were working for a genius. When that rarity happens, no one ever takes a moment for granted. We love you LD."
Back in August, HBO ordered a 12th season of Curb Your Enthusiasm.
"Playing the role of Larry David has been the greatest honor of my life," the Seinfeld co-creator said at the time. "In researching this multi-faceted, multi-talented man, I discovered that there's more to him than I ever could have imagined: He speaks six languages, brines his own pickles, and spearheads a national movement to install a bidet in every home. I've also been told from numerous sources that he is the most generous of lovers. I am so excited to once again transform into this force of nature. I only pray that I can do him justice."