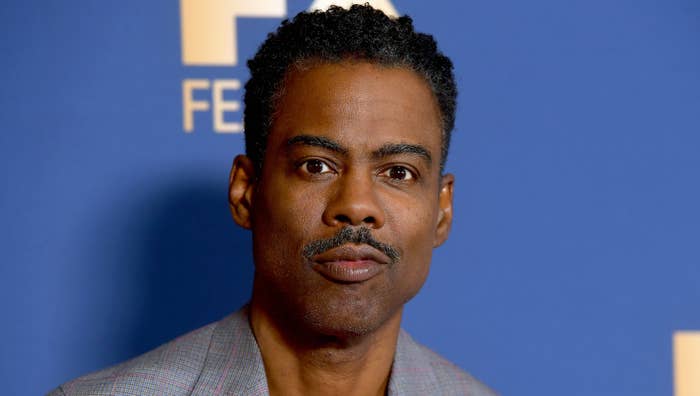 Chris Rock isn't buying Will Smith's recent apology video, which saw the King Richard star discuss the infamous Oscars slap incident for the first time since sharing his initial apology statement back in March.
According to Deadline, Rock addressed Will's apology video, which the actor posted on YouTube in July, during a performance alongside Dave Chappelle at London's O2 Arena on Saturday night.
"Fuck your hostage video," the comedian joked. "Yes, that shit hurt. He played Ali," Rock added, referring to Smith's role as Muhammad Ali in 2001 film Ali. "I can't even play Floyd Mayweather."
During the comedic duo's show at Liverpool's M&S Arena last Thursday, Chappelle claimed the slap heard around the world shattered Smith's boy-next-door persona.
"Will did the impression of a perfect person for 30 years, and he ripped his mask off and showed us he was as ugly as the rest of us," Chappelle told the crowd. "Whatever the consequences are … I hope he doesn't put his mask back on again and lets his real face breathe. I see myself in both men."
It isn't the first time Rock has made light of the Oscars slap in his recent stand-up acts. Back in July, while performing at Atlanta's Fox Theatre, Rock made a comparison between Smith and Suge Knight. 
"Everybody is trying to be a fucking victim," Rock said. "If everybody claims to be a victim, then nobody will hear the real victims. Even me getting smacked by Suge Smith…I went to work the next day, I got kids," he said, according to People.
"Anyone who says words hurt has never been punched in the face," Rock added.
In his July statement to Rock, Smith apologized to Chris' mom and family (including Tony Rock), saying he didn't realize "how many people got hurt" by the moment.
"I've reached out to Chris and the message that came back is that he's not ready to talk and when he is, he will reach out," Will shared. "So I will say to you, Chris, I apologize to you. My behavior was unacceptable and I'm here whenever you're ready to talk."
Smith added, "There is no part of me that thinks that was the right way to behave in that moment. There's no part of me that thinks that's the optimal way to handle a feeling of disrespect, or insults."
Watch Smith's full apology video below.