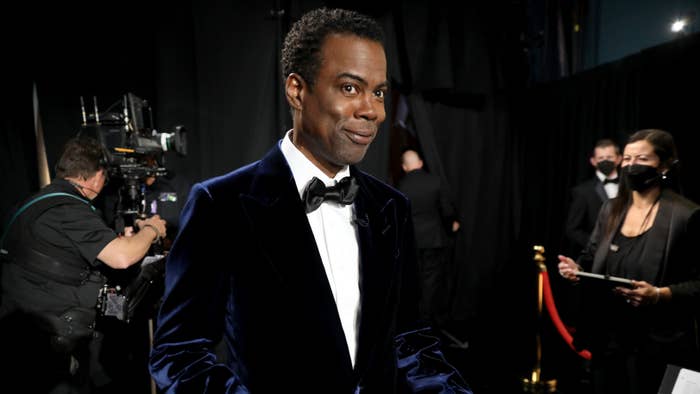 Chris Rock has continued to make jokes about his slap heard around the world—and this time, it was during a stand-up set in Atlanta.
Rock took the stage on Friday night at Atlanta's Fox Theatre, the same day that Will Smith issued a new video apology addressing the Oscars incident, though the comedian didn't reference Smith's latest remarks. Instead, he made a comparison between Smith and Suge Knight, who is currently incarcerated.
"Everybody is trying to be a fucking victim," Rock said. "If everybody claims to be a victim, then nobody will hear the real victims. Even me getting smacked by Suge Smith…I went to work the next day, I got kids," he said, according to People.
"Anyone who says words hurt has never been punched in the face," Rock continued. He has been performing a handful of shows at Fox Theatre through Sunday, for his Ego Death World Tour.
The Oscars incident took place on March 27, when Smith walked on stage and slapped Rock after the comedian made a joke about Jada Pinkett Smith's shaved head. She suffers from alopecia.
In Smith's almost six-minute video, he directly addressed Rock at the beginning, saying, "I will say to you, Chris, I apologize to you. My behavior was unacceptable and I'm here whenever you're ready to talk." Smith also said that he reached out to Rock's camp and they said that "he's not ready to talk and when he is, he will reach out."
"There is no part of me that thinks that was the right way to behave in that moment," he added. "There's no part of me that thinks that's the optimal way to handle a feeling of disrespect, or insults."