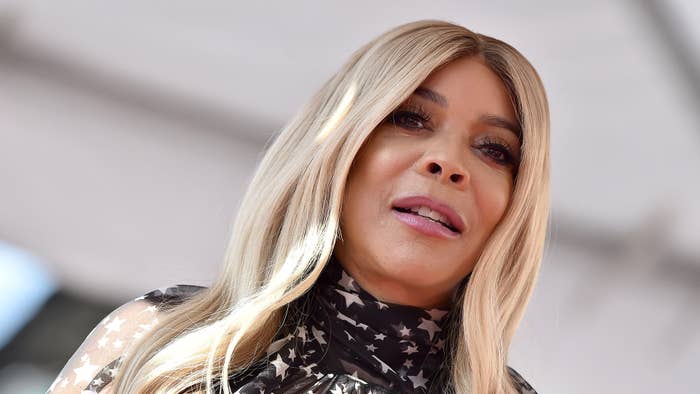 Wendy Williams stopped by Good Morning America, where she gave her first interview since it was announced that The Wendy Williams Show would be coming to an end after its 13th season.
With so much speculation about her health recently, Williams, who did not appear on camera for the interview, told host T.J. Holmes that all is well. "Health is very well, and I've actually had a few appointments," she said. "You know, I'm 57 now. And I have the mind and body of a 25-year-old."
Williams also addressed her legal situation with Wells Fargo, which she claimed locked access to her bank account for at least two months. Williams filed a restraining order against the bank in February.
"They say that I need somebody to handle my account, and I don't want that," she said. "I want all my money. I want to see all my money that I worked hard for my entire life. My entire life. I don't lie, I don't cheat and I don't steal. I am an honest, hard-working person." The bank, according to legal documents, requested a conservatorship because they believe she might be "the victim of undue influence and financial exploitation."
Williams, who was absent for large chunks of her show in recent months, explained why she took time off.
"I want to spend more time with my family," Williams said. "And you know, working out and waiting for the responses to my money situation and Wells Fargo. And they don't like that. I've worked hard every single day, even on days when you know, I might have a little cold."
She added, "If I was sick because you know, my back—or you know, when I got the lymphedema and stuff like that—I would still do my show. But quickly, not long time, very quickly, it went bad regarding this money thing."
Wells Fargo denied Williams' allegations in a statement shared with People last month.
While Williams didn't directly address the end of her show, she did indicate that she's eager to get back to work. "I'm very comfortable," she said. "You know, my partners with the show. Everybody's ready. … Give me about three months. There are private things that I have to deal with and then I'll be ready to come back." 
And to her fans, Williams said, "This is what I would love to say to my Wendy Watchers: Keep watching because I will be back on the Wendy Show bigger and brighter than ever."
Watch her full interview with GMA here.