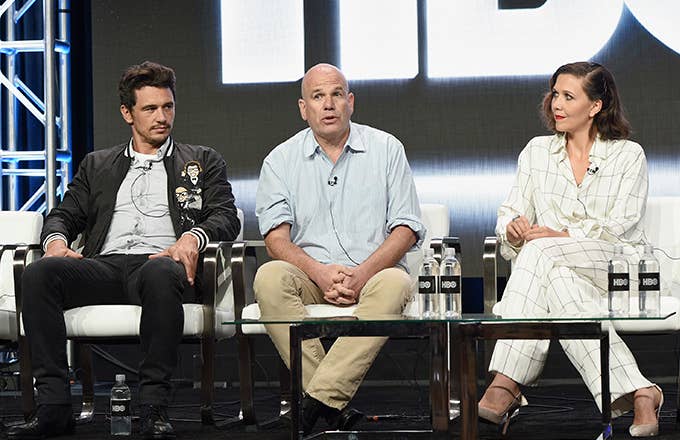 HBO's The Deuce came to an end on Monday just weeks after the series lead James Franco was sued for alleged sexual exploitation at his acting school. Franco and his business partner Vince Jolivette were accused of engaging in "widespread inappropriate and sexually charged behavior towards female students by sexualizing their power as a teacher and an employer by dangling the opportunity for roles in their projects."
The claims against Franco originally surfaced in January 2018, but the lawsuit brought the 41-year-old's alleged behavior back into the spotlight earlier this month. In an interview with Rolling Stone, The Deuce co-creator David Simon addressed the situation. The accusations leveled against Franco have drawn comparisons to the behavior of his two characters in the show, as it has been alleged that he pressured women into sexual situations on camera that they were otherwise uncomfortable with.
Simon, who also created HBO's The Wire, previously addressed the situation when the allegations first surfaced, throwing support behind Franco. His interview with Rolling Stone, however, is somewhat more heated and defensive. "James is aware of what this [series] is about. And he understood what he was delivering. It had an effect on how all of this has been perceived and received," Simon said.
"I've read a lot of argument from presumably professional critics about why we should amend what we were trying to build, and we should resolve this in such a way as to be politically comforting in the moment," he continued. From there he suggested that he and Deuce co-creator George Pelecanos could not have told the story they wanted to tell with Franco, rebuffing the idea that the allegations should see his characters, twin brothers Vincent and Frankie Martino, recast or removed entirely.
"If you look at the piece as a whole, the idea that you could achieve this without the work James brought, as Frankie, but especially as Vincent—when you get to the end and you see what's being said about male complicity in this entire paradigm—that's a ridiculous premise," he said. "Yet there were critics saying, 'Recast,' or 'Cut him out,' or 'Bobby Dwyer will be enough.' I read this stuff and thought, 'Jesus. You have no idea what we're building. And if you did…' I thought a lot of people were pretty hyperbolic, because on a very basic level, what James is dealing with—and it's meaningful—it's not what we're seeing in the other cases involving #MeToo. It simply isn't." 
Simon asked his interviewer, veteran TV critic and author Alan Sepinwall, what was "absent" from the accusations leveled against Franco in comparison to "other cases of #MeToo and #TimesUp," to which Sepinwall responded, "Assault."
Simon added, "More than that. You're not even close. ... It's kind of embarrassing that I have to tell you. You're the one who raised the question. Be fair with the process here. I'm making you be a stand-in for the rest of the press here."
Despite the allegations of Franco abusing his position of power as a teacher, Simon insisted he didn't "seek to use his position to have sex with anyone." One of the women who has accused him of sexual misconduct claimed Franco removed plastic guards around students' vaginas during a sex scene course, simulating oral sex on them after doing so.
He didn't outright deny the misconduct allegations against Franco, but he did state he believes the "proportionality got lost." Simon continued, "I do think it's fair to critique James, as I think James has critiqued himself, on the notion of being a little bit flippant or unaware of the power of being James Franco. And that when people say 'yes,' they might not be saying yes if it was anyone but James Franco—that young actors and actresses could get into situations where they would say 'yes' and have fundamental regrets."
Sarah Tither-Kaplan and Toni Gaal, two of Franco's former students at his now-defunct Studio 4 acting school, are seeking monetary damages and the destruction of any video recordings submitted by students.