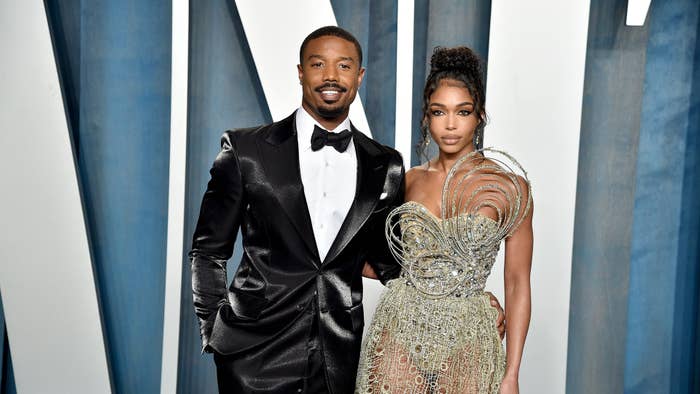 Following Michael B. Jordan and Lori Harvey's split earlier this month, Lori's father Steve Harvey has shared his thoughts on the situation.
On Monday's episode of the Steve Harvey Morning Show, per E! Online, the Family Feud host confirmed the couple are no more. He said he feels "fine" about the situation before sharing that he's got his daughter's back regardless.
"I'm team Lori, 1,000 percent," he said. "She's my daughter. I love her, I support her."
The 65-year-old remarked it can be difficult to maintain healthy relationships as celebrities, but he believes the two were able to break up amiably. "Look, as long as everybody can walk away in peace, be friends...I ain't heard nobody say they busted no windows or nothing," he said. "As long as you don't put your hands on my daughter, I don't give a damn what you do."
Harvey has been supportive of his daughter's relationship whenever he's spoken publicly about it, and he seemed to suggest the Black Panther actor remains in his good book even if he's no longer dating Lori. "He's still a cool guy...from what I know. It's a breakup. I'm pretty sure they'll be fine. People break up all the time," he said. Harvey also joked about his own multiple divorces, saying he wishes he could've broken up "without the cost factor."
Reports first surfaced earlier this month that the pair broke-up after a year and a half of dating. So far neither Michael B. Jordan nor Lori Harvey have publicly shared anything regarding the split. She has, however, deleted a bunch of Instagram posts that featured her ex-boyfriend.
According to People, a source close to Lori suggested the reason they split was because she "wasn't ready to commit" and opted instead to keep focusing on her career, which includes the skincare brand SKN by LH. The couple allegedly "realized they weren't on the same page" when they discussed "plans for their future." The source added, "She still wants to have fun and be free. … Michael is a great guy. She is sad that their relationship didn't work out, but she is moving on."