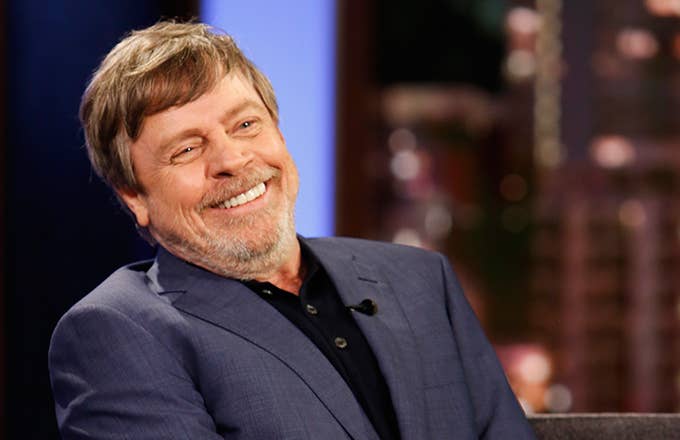 The first trailer for Star Wars: Episode IX arrived earlier this month, bringing with it the reveal of the full title, The Rise of Skywalker. Needless to say, the title of the ninth main entry in the franchise caused a stir among fans, what with the events that took place in the previous entry.
**Spoiler alert for those who haven't seen Star Wars: The Last Jedi** 
Mark Hamill, who famously portrayed Luke Skywalker in both the original Star Wars trilogy and the sequel trilogy, hasn't been shy when it comes to offering his opinions on the franchise. Following Luke Skywalker's controversial fate in The Last Jedi, fans have begun to speculate what his role will be in the next film, if he even does appear. On Friday, the 67-year-old actor posted a photo of what could have been if Skywalker and Harrison Ford's Han Solo made it to Rise of Skywalker.
The photoshopped image showed Skywalker alongside Solo, Carrie Fisher's Leia Organa, and Billy Dee Williams as Lando Calrissian. He tweeted out the image with the hashtag, "#MissedOpportunities." It also featured the title Star Wars: What Should Have Been.
Immediately, he was met with a strong reaction from fans. Hamill previously stated that he wasn't completely happy with the direction Skywalker took in The Last Jedi, and this shows that he's still not 100% pleased with it despite walking back on those comments. In a follow-up tweet, he attempted to defuse the situation.
"Saw a pic of me with Billy D, Carrison & Harrie. Posted it because I miss them," he wrote. "Nothing more, nothing less. I love the new cast too & didn't mean to get everyone's knickers in a twist. Maybe I should've just posted a bunch of #Endgame spoilers instead."
His former co-star, Billy Dee Williams, chimed in, tweeting, "You should be used to getting everyone's knickers in a twist... Part of your charm man!" In response, Hamill wrote, "There's no one more capable of assessing charm than you." 
Star Wars: The Rise of Skywalker hits theaters Dec. 20.