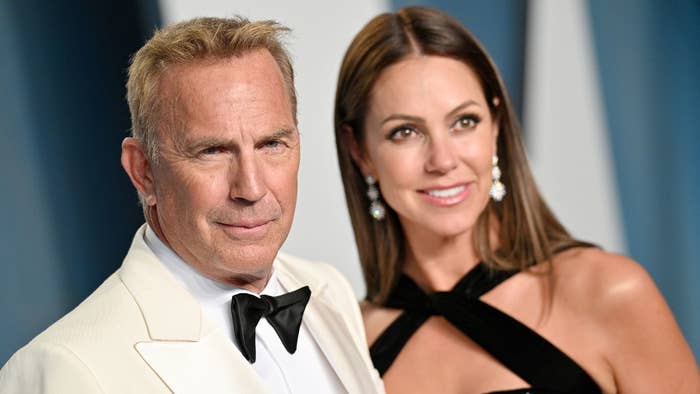 After Christine Baumgartner requested $248,000 per month in child support, Yellowstone actor Kevin Costner has accused his estranged wife of using plastic surgery expenses to justify the eye-watering figure.
Per TMZ, Costner's forensic accountant accused Baumgartner, with whom he shares three children, of inflating the figure for child support using her own expenses. The actor's legal team said that the $248K figure includes $100,000 in cosmetic surgery, large ATM withdrawals, thousands in high-end shopping, and various other expenses that have nothing to do with supporting their children.
In legal documents, Costner's accountant said many of the expenses used to justify the figure are either her own credit card bills or one-time expenses, including construction loans. Costner is apparently paying all expenses for their kids at $51,940 a month. She filed for divorce in May and filed the request for $248K in monthly child support payments earlier this month.
In the request, she claimed that the monthly sum allows her and their three children to "live at a standard somewhat approaching the standard that the children will be enjoying while in Kevin's care." She argued that the figure doesn't include private school and healthcare costs or any extra-circular activities, although she wants Costner to cover those as well. In court, he offered to pay an additional $38,000 per month.
As reported by TMZ earlier this week, Baumgartner agreed to vacate their home under the condition that he provides more financial support. She will move out of their California home on August 31, although the figure Costner will pay has yet to be decided. Per their prenuptial agreement, she was originally expected to leave the house within a month after she filed for divorce on May 1. So far he's already provided her with $1 million to find a new home.
The bitter divorce proceedings come not long after it was announced that the fifth season of Yellowstone will be its last, mostly due to Costner requesting to spend less time filming the show. He reportedly wanted to spend just one week filming the final batch of episodes for Season 5 after reducing his commitment from 65 days of shooting to 50 days for the first half of the episodes. Per Variety, he was making $1.3 million per episode of Yellowstone.