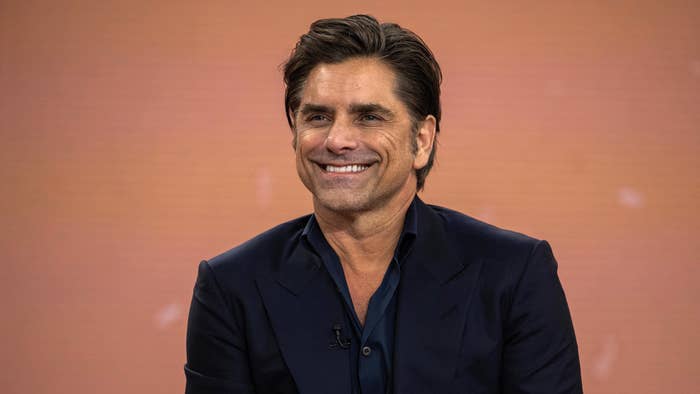 In an appearance on the And That's What You REALLY Missed podcast, John Stamos admitted that he was initially "angry" when Mary-Kate and Ashley Olsen decided not to reprise the role of Michelle Tanner for Fuller House.
Per People, the 59-year-old told hosts Kevin McHale and Jenna Ushkowitz that he wasn't thrilled when he heard they weren't interested in returning for the Netflix reboot of Full House. "The twins moved to New York, and I gotta tell you, one of the only good things to come out of Bob's [death] Well... Mary-Kate and Ashley, we didn't see them much," he said, referring to their co-star Bob Saget, who died in 2022. "I mean, we stayed in touch a little bit, but Bob really did. And they were so great. You hear rumors, 'Oh, they hated their childhood, or they hated being on the show or whatever. ... When I did Fuller House, they didn't wanna come back. And I was angry for a minute, and that got out."
Saget, who played Danny Tanner in the original series and the Netflix revival, proved to be "very instrumental" in keeping the cast close. When he died last year, it prompted Stamos to reconnect with the Olsen twins, who both passed on the opportunity to play Michelle Tanner again. Per The Hollywood Reporter, executive producer Robert L. Boyett confirmed they wouldn't show up in Fuller House because they wanted to "focus on their fashion brands" and other business ventures.
"They were, like, 'We loved our childhood. We loved being with you. We miss Bob.' They came over to my house," said Stamos. "They brought a pork chop and sage. I don't know why, but thank you? It was a frozen pork chop, so that was really nice. So we stayed very close."
In an interview with Howard Stern in 2016, Stamos said he reached out to the twins in an effort to get them on board. "I talked to Mary-Kate and I explained kind of what the show was going to be, and told them I would love them to be on there, and they decided not to, which I respect," he said. Last month, he said that he briefly got the twins fired on their first day on Full House because they were crying too much.
Listen to full episode of the podcast below.