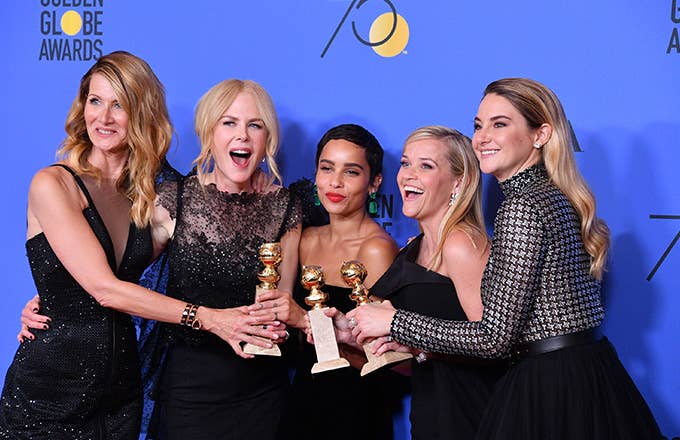 Francesca Orsi, head of drama over at HBO, caught some flack for her comments at a Keshet-organized conference in Jerusalem. During the panel, Orsi spoke at length about the upcoming programming coming to the network, reports Deadline. After the hugely successful Big Little Lies got picked up for a second despite its formerly "limited" nature, Orsi said the budget for the rest of the network took a major hit to accommodate all the returning stars.
"From a budget standpoint going into season two of Big Little Lies without any options in place we've been...um...short of raped," she said. With Reese Witherspoon and Nicole Kidman fronting the drama, the stars were able to negotiate even more money for the second season. 
"As a show goes on they get more expensive and as shows get more ambitious they will get more expensive," added HBO programming president Casey Bloys. "More money doesn't always equal better but in some cases the scope of ideas do require it."
Following the negative reaction to her comments, Orsi apologized for her use of the word "raped," Deadline writes. "Obviously, I am embarrassed by my poor choice of words," she explained to the site. "We are extremely proud of Big Little Lies and excited for the second season."
During the conference, Orsi and Bloys also spoke about the final season of Game of Thrones, discussing what's next for the property with the spinoffs they've started development on. Speaking on a budget concern, Orsi said, "There is a conundrum if we do take off on one of these Game of Thrones spinoffs, where do we start? We can't obviously start with the budget of season 8 but would it be a Game of Thrones season 3 budget?"
Talking about what led to the decision to develop so many Game of Thrones spinoffs, Orsi was pretty forthcoming. "When we were in Belfast in October, Casey said 'it feels like corporate malfeasance' to not continue it, which is why it's spawned three, four, five Game of Thrones spinoffs."