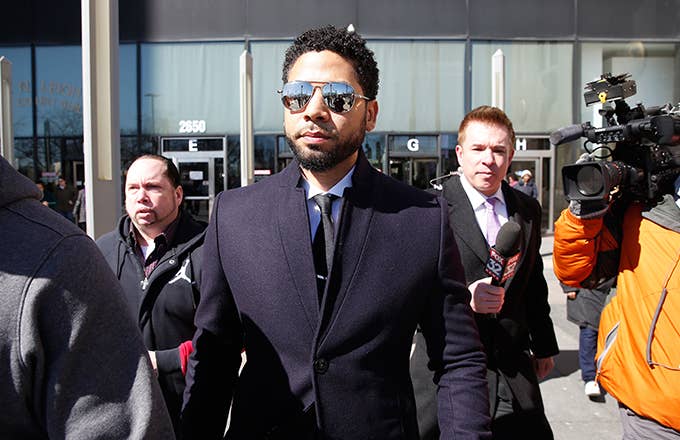 Prosecutors dropped the charges against Jussie Smollett, but TMZ reports that the actor still hasn't regained the support of his colleagues on Empire. Those close to the production team of the Fox drama series said that people working on the show, both actors and writers, are completely split on whether Smollett is innocent or guilty of orchestrating a fake hate crime.
Some believe that the dismissal of charges against him proves that he was really a victim, while others still believe he staged the attack. The prosecutor who dropped the criminal charges against him said that he does not believe he's innocent, instead calling the case low-priority. People involved with the production of Empire are particularly upset about the lack of consequences for Smollett due to the belief that he did it to get more money out of the show's producers, with some calling him a liability. Despite this, the entire team agreed that it's a good thing the case is now closed.
However, the FBI is still currently investigating the later that was sent eight days prior to the alleged attack. If he's found to be the sender of the letter, he could still face federal charges. Meanwhile, Associated Press reports that the actor's attorney is wanting to shift the attention to the two brothers who reportedly played a role in the attack. "The two men who attacked him have indicated that they attacked him, so we already know who attacked him," attorney Patricia Brown Holmes said.
TMZ also reported that the two brothers have refused to stand by their claim that the attack was staged, with their lawyer quitting as a result. It's unclear why they didn't want to make a statement following the dismissal of charges against Smollett.