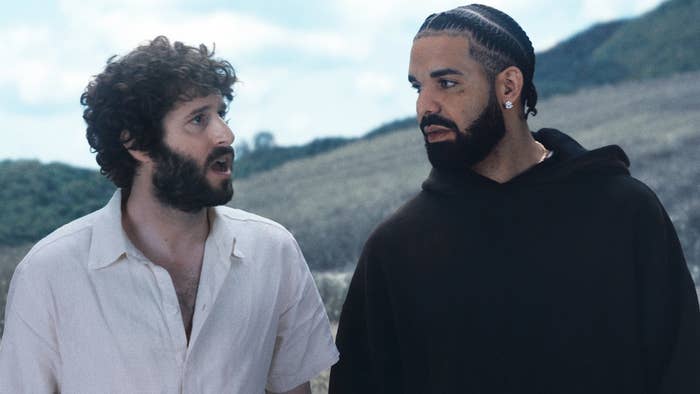 The Season 3 finale of Lil Dicky's comedy series Dave was packed with guest stars including Rachel McAdams, Brad Pitt, and Drake, who told the creator and star the series is "one of the most important shows of our generation."
In an interview with Alan Sepinwall for Rolling Stone, series co-creator and star Dave Burd, a.k.a Lil Dicky, opened up about how he was able to secure the huge stars for the final episode of the latest season. He admitted that it's become easier to biggest guests as the show has gone on, but when he was making Season 1 he wasn't going to be able to get someone like Pitt involved, regardless of how star-studded his music collaborations have been.
"A guy like Brad Pitt isn't going to get in a show that he doesn't think is one of the best shows. Because I have this show out, it's a lot easier for a guy on Brad's level to believe in it," he shared. "It didn't take me moving mountains to get Brad Pitt in the show. I just knew Brad Pitt really loved the show. And I knew Drake. When I met Drake, he told me our show was one of the most important shows of our generation."
As easy as it was for him to get these people involved, the scheduling of in-demand actors and musicians can make it difficult. "So when I'm getting feedback from these people, I in my heart believe that if I ask them to be in it, they maybe say yes. And of course, it's a scheduling nightmare," he said. "But at the end of the day, it's the show. Yes, they like me interpersonally, but it's not like any of the guest stars are great friends of mine, other than Benny Blanco. The show itself, they're able to see it for what it is. And it's very good."
When pressed for more on Drizzy's thoughts on Dave, the rapper and actor shared that he first met him backstage at a show but they only got a proper opportunity to hang out when they were in the studio with Kanye West. During the encounter, he played the "Freaky Friday" video for Drake, and he told him "It's one of the best music videos ever." They later bumped into each other at a bar and had an opportunity to speak further.
"He said, 'Man, I watch your show religiously.' I was really moved by it. And then when I shot with him and was hanging out with him, he said, 'This is one of the most important shows of our generation. The things I care about? I don't know that there's more important stuff.'" Burd continued. "And then I'm giving Brad Pitt direction! And he's trusting me the same way he's trusting Tarantino or a Coen brother. It's very validating for me as a filmmaker to be entrusted that way. And I feel I didn't let him down."
Drake showed up in the Dave Season 3 finale as a fictionalized version of himself, who meets with the lead character in West Africa to work on music and act as a sort of spiritual guide. Pitt also plays a version of himself who just so happens to be an aspiring rapper who makes an appearance in Dave's music video about Rachel McAdams, who, yes, also shows up as herself.
In the interview, Burd touched on how much of a joy Pitt was to work with. He was on set for four days in total and was shooting until 6 a.m. despite offers for a body double to take his place for certain shots. The opportunity presented itself after actor and director Ben Sinclair, who has directed several episodes of Dave, took a meeting at Pitt's production company Plan B. Sinclair was told everyone at the company were huge fans of the show. "Brad and Drake and Rachel, the best people I've ever worked with," Burd shared. "They're so down to Earth, so good to the crew, and inspiring. Everyone walks around with a pep in their step when these people are on set. You could feel the purpose of everyone."
Read the full interview about the star-studded finale here.