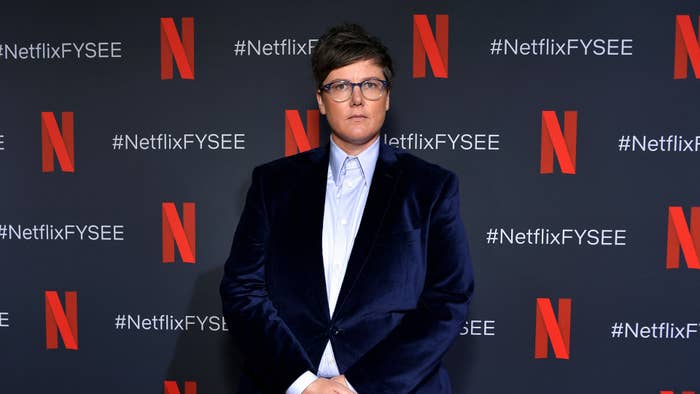 Australian comic Hannah Gadsby has responded to Netflix co-CEO Ted Sarandos after he shared two statements defending Dave Chappelle's latest stand-up special, which has been criticized as transphobic.
Gadsby, who has released multiple specials through Netflix including the breakout sensation Nanette in 2018, publicly told Sarandos, "Fuck you and your amoral algorithm cult." The co-CEO name-dropped her in the second of his internal memos addressing the controversy surrounding Chappelle's The Closer.
"Hey Ted Sarandos! Just a quick note to let you know that I would prefer if you didn't drag my name into your mess," she wrote in an Instagram post. "Now I have to deal with even more of the hate and anger that Dave Chappelle's fans like to unleash on me every time Dave gets 20 million dollars to process his emotionally stunted partial world view. You didn't pay me nearly enough to deal with the real world consequences of the hate speech dog whistling you refuse to acknowledge, Ted."
In his statement, Sarandos insisted that the special does not "cross the line," and that stand-up comedy often exists "to push boundaries." Trans employees and allies at the company have been vocal about their disappointment with the platforming of the special, but Sarandos said the company believes "that content on screen doesn't directly translate to real-world harm."
"Fuck you and your amoral algorithm cult," continued Gadsby in her scathing criticism of the co-CEO. "I do shits with more back bone than you. That's just a joke! I definitely didn't cross a line because you just told the world there isn't one." 
Near the halfway point of The Closer, Chappelle mentioned J.K. Rowling and the criticism she has faced after she repeatedly shared transphobic and insensitive remarks online. "They canceled her because she said in an interview—and this is not exactly what she said but effectually—she said gender was a fact," he said. "And then the trans community got mad as shit. They started calling her a TERF."
TERF, which stands for trans-exclusionary radical feminist, has been utilized as a label to refer to individuals who believe the existence of trans women poses a threat to cisgender women. "I'm team TERF," Dave said, "I agree, Man. Gender is a fact." He did, however, insist he doesn't believe "trans women aren't women," which he then followed with some questionable remarks. "I am just saying that those pussies that they got, you know what I mean? I'm not saying it's not pussy but that's like Beyond Pussy or Impossible Pussy," Chappelle continued.
Aside from receiving support from Netflix and a contingent of fans, many right-wingers and conservative pundits including Ben Shaprio specifically praised Chappelle's special for its regressive material on the LGBTQ+ community.